Partnership offers outdoor education opportunities for high school students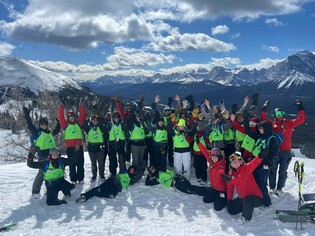 Thanks to a partnership with Canadian Rockies Public Schools, NLPS high school students will have the opportunity to earn certifications, and credits toward graduation, while taking part in an amazing outdoor education experience.
"We are very excited to be able to offer this programming to our high school students and provide them with meaningful hands-on learning experiences," said Board Chair Karen Packard. "We are grateful to Canadian Rockies for offering us this incredible opportunity to partner and access these unique high school courses."
NLPS high schools will be taking part in two programs offered through the Canadian Rockies Outdoor Learning Centre. In the winter, students can take Winter Travel 15 which includes trip planning, snowshoeing, fire building, navigation, cross-country skiing, downhill skilling/snowboarding, avalanche awareness, and a ski patrol job shadowing experience. In the spring, students can access Water Experience 25 which includes water ecology, quality and measurement, water recreation and paddling, river rescue and hazard assessment, trip planning, canoeing, and navigation. During the course, students have the opportunity to earn a Paddle Canada Certificate.
Program coordinator Peter Prescesky has been instrumental in helping to establish the partnership between NLPS and Canadian Rockies. He thought the program would be a good fit for NLPS students due to the time he spent working in the division as a teacher at Cold Lake High School and coordinator of the division's Real 8 program.
Due to the partnership between the school divisions, the only cost for students to take the courses is transportation from the school to the outdoor learning centre in Canmore. Accommodations are provided at the centre and meals are catered by a local restaurant. All rentals, lift tickets and materials are included. 
Students from Bonnyville Centralized High School (BCHS) and Cold Lake High School (CLHS) already had the opportunity to travel to the Canadian Rockies Outdoor Learning Centre during the 2021-2022 school year. 
Thirty-three BCHS students participated in the Water Experience course in May. The students complete six hours of work in a Google Classroom to prepare for the trip and then spent five days learning about voyageur canoeing, tandem canoeing, shelter building, navigation and orienteering, and a pond study.
Assistant Principal Michael Straile accompanied students on the trip and said they were enthusiastically engaged in learning for 12 hours a day. 
"All of the students had a great time. We had students who don't normally spend a lot of time on outdoor activities that went on the trip and they loved it," said Straile.
Cold Lake High School students travelled to Canmore in March to participate in Winter Travel 15, which prepares students for winter travel in mountain environments. 
"These are amazing opportunities for our students to learn from experts and gain hands-on experiences in activities they may not be exposed to otherwise," said CLHS Principal Dustin Walker. "We are very fortunate to have this partnership in place and to be able to offer this to our students."
The Winter Travel course accesses the expertise of professionals including Parks Canada staff, CSIA certified ski instructors, Lake Louise Ski Patrol and emergency responders, Canadian Avalanche Association Instructors, Association of Canadian Mountain Guides, Interpretive Guide Association, as well as experienced outdoor education teachers.
Scheduling difficulties prevented CLHS students from travelling to the centre to complete Water Experience, but program coordinator Peter Prescesky was able to come to Cold Lake in June so they could complete the course locally.
For 2022-2023 BCHS has already booked one Winter Travel course and one Water Experience course and is hoping to add a second Water Experience course if scheduling allows. The school is also introducing a new Grade 9 program called Outdoor Pursuits. This program will get students interested in outdoor education and allow them to experience different outdoor activities before they pursue the Canadian Rockies programming in high school.
Cold Lake High School has also booked three courses for the 2022-2023 school year. Plans are also in place to expand the program to include other NLPS high schools, and possibly additional programming.
Posted on