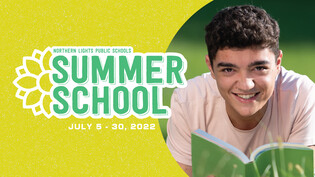 UPDATE May 24, 2022:
Thank you to everyone who completed our Intent Form. This has helped us plan and prepare for Summer School 2022.
The next step in the process is to register for Summer School. 
NLPS Students
Current NLPS students can register by logging into their PowerSchool Student Portal account in a web browser (applications cannot be submitted through the PowerSchool app).
Once you have logged in to your Student Portal account, click on the School Engage icon on the lower left hand side. The Summer School Registration Form will be visible when School Engage opens.
Application Tips
Students need to apply using their PowerSchool Student account, not their parent's Parent Portal account. This requires a separate Username and Password. If you do not have a student account set up, please ask your school's administrative assistant for help.


School Engage cannot be accessed through the PowerSchool app. To apply for Summer School you need to log in to the Student Portal in a web browser, preferably on a computer. Link: PowerSchool Student Sign In


Out of District Students
Students who are not currently enrolled in an NLPS high school, can apply for Summer School through School Engage.
Fee Payment
To finalize your summer school registration, you will need to pay your fee. 
NLPS student fees will be $25. For students from outside NLPS, the fees will be $50.
Payments can be made through School Cash Online between June 13th and June 28th. Payment must be received by June 28 to participate in the program.
If you do not already have a School Cash Online account, please follow the instructions on our website to set one up:  School Cash Online Instructions.  
You will be contacted by June 28th  to confirm whether or not we are able to offer the course during the upcoming session.
ORIGINAL POST:
Northern Lights Public Schools is pleased to announce that it will be offering Summer School from July 5 to 28.
This year, Summer School is returning to in-person classes at our outreach schools in Bonnyville, Cold Lake and Lac La Biche. Classes will take place from 9 a.m. to 3 p.m. Monday to Thursday. There will be no classes on Fridays, providing students with an opportunity to enjoy the summer break.
Summer School is open to all NLPS students who are currently in grades 9 to 12 as well as high school students from other school divisions throughout the province.
To help us with planning for Summer School, we are encouraging all students who might be interested in taking a course to fill out our 2022 Summer School Intent Form prior to May 13. This will help us to finalize which courses we will be able to offer, ensure staffing is in place, and connect with students to discuss their options.
Registration will open on May 24 and information on how to register will be shared with students closer to that date.
Summer School is a great way for students to catch up on lost credits, improve a mark in a course, or complete work experience hours. More information about Summer School is available on our website: https://www.nlpsab.ca/programs/summer-school
Posted on