Learning Pathways Guide 2021-2022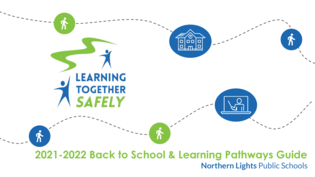 Northern Lights Public Schools will continue offering families three Learning Pathways for the 2021-2022 school year.
The three Learning Pathways that will be offered to students in Kindergarten to Grade 9 are:
NLPS offers a variety of options for students to complete high school programming. High school students interested in alternatives to in-person classes are encouraged to discuss their options with their school administration. 
More information about all three pathways is included in the division's Learning Pathways Guide 2021-2022.
Families who wish to change which Learning Pathway they previously selected for their child should contact their child's school as soon as possible so the division can ensure adequate staffing and supports are in place. 
Enrollment in our Learning Together Anywhere School is open to all Kindergarten to Grade 9 students in Alberta. Students who are not currently enrolled with NLPS can register for in-person or online learning by following the instructions on our Registration page.
Posted on