Under the Northern Lights - October 27, 2021 - Regular Board Meeting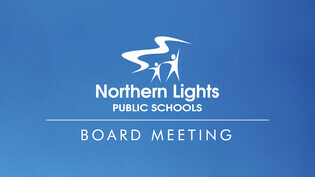 Good News Items
Board Chair Karen Packard congratulated all of the trustees on their election to the board.


Superintendent Rick Cusson commended the division staff who worked the recent election. At total of 2,800 voters cast ballots which was a record for the division.


Superintendent Rick Cusson also highlighted the first Numeracy Academy session that was heled in conjunction with University of Alberta. Twenty staff are taking part in the series of sessions that is focused on numeracy strategies and is part of the division's commitment to improving students' numeracy skills and understanding (Division Priority #2).


Nicole Garner, Communications and Public Relations Manager, presented the October 27th edtion of Good News, featuring highlights from schools throughout the division. The presentation is available on our website: Good News October 27th

Remembrance Day
Trustees reviewed a list of Remembrance Day ceremonies taking place in the division's schools. 
Meetings with Stakeholders
The Board discussed setting up meetings with a variety of stakeholders including School Councils, and other elected officials throughout the region. Administration will bring back a list and suggested dates at a future meeting. 
Staff Wellness Report
Bill Driedger, Associate Superintendent, provided the Board with the annual Staff Wellness Report. 
Last year's initiatives and activities included the Board's liaison committees, mental health and wellness communications, and recognition activities for staff. 
The report also includes data related to staff wellness. NLPS again received a discount from WCB based on its claims, which are 65% below industry average. Alberta School Employees Benefits Plan (ASEBP) life insurance and extended disability benefits are at the provincial base rate and other extended health care is at a 10% discount. The staff utilization rate of the health spending and wellness spending accounts has been increasing.
Driedger said the last two years have been challenging for staff wellness and that will continue in the years to come as the division deals with the impacts of COVID-19.
Posted on