Under the Northern Lights - June 8, 2022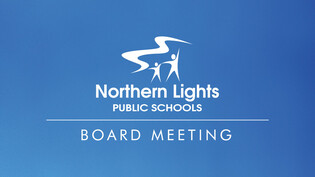 Good News Items
Trustee Debra Lozinski congratulated Ecole Plamondon School students and staff on their recent drama production. They participated in the One Act festival and received awards for best costumes, best actress and best supporting role. 


Board Chair Karen Packard thanked the division's Lac La Biche schools for welcoming trustees while they were doing school tours in the area.


Nicole Garner, Communications and Public Relations Manager, presented Good News from schools throughout the division. The full presentation is available on our website: Good News - June 8, 2022
Facilities Update
Leah Rout, Director of Facilities, provided the Board with an update on the division's facilities, including work that was completed in 2021-2022 and the department's plans over the summer.
Throughout the school year, facilities staff have included a number of projects, including installing PA speakers at some schools and other projects that can be completed while schools are in session. Two larger projects are currently underway - a building automation upgrade at Cold Lake Elementary School and a home economics modernization at H.E. Bourgoin Middle School in Bonnyville.
Several projects have been contracted to be completed over the summer including fencing, roofing, flooring, and paving. Three capital projects are being done this summer including the replacement of two air handling units at Cold Lake Junior High, and renovations at North Star Elementary to move the main office to the front of the building and create two classrooms. Phase 1 of a three-year upgrade at Glendon School will also take place this summer, including new windows and stucco repair on two sections of the school. 
Facilities staff will take care of a number of other projects over the summer including painting, installation of shot put and discus concrete pads in Glendon, installation of PA speakers, furncae replacement, millwork, and moving furniture and supplies to accommodate configuration changes being made in Cold Lake. 
Technology Report
Terry Moghrabi, Associate Superindent, and Bob Barrett, Director of IT/ET, presented the Board with the annual technology report.
Overall there ratio of students to devices in the division is 1:1.4. At the K-4 level, there is one device for every three students, and that drops to one device for every two students in grades 5-12. There are also 185 desktop and laptop computers beign used in schools in media labs, IA shops and learning commons. Smart TVs have been installed in classrooms throughout the division. 
Several cost-saving measures have been put in place in recent years including switching to a VOIP phone system centralizing software licensing, and centralizing purchasing for devices.
COVID Update
Bill Driedger, Associate Superintendent, reported that there have been no changes to COVID requirements since the last board meeting. He noted that the division does not know what restrictions or guidelines will be in place for September. Currently there are some guidelines in place including a requirement for people who have COVID to isolate. It is unknown if any changes will be made prior to the start of the new school year. 
Bus Contractor Rate Schedule
Trustee Mandi Skogen presented a report from the Transportation Committee which recommended a change to the rate schedule for bus contractors. The rate schedule includes increased rates. This is possible due to the increased funding the division received for transportation from the provincial government. 
Trustees noted that while they were happy to be able to provide bus contractors with a slight increase in funding, it does not come close to offsetting the huge cost increases contractors have been incurring including insurance and fuel costs.
Skogen also noted that while the division received a 4.6% increase in funding for transportation, the overall amount of funding from the province did not change, so there is less funding in other areas of the budget.
Along with other boards in the province, the NLPS Board is advocating for the government to introduce a diesel fuel subsidy for bus contractors. It also continues to advocate for a solution to the huge hikes in insurance that have occurred over the last two years. 
Posted on