Under the Northern Lights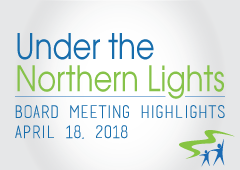 This edition of Under the Northern Lights includes highlights from the December 13 meeting of the Northern Lights Public Schools Board of Trustees.
Highlights include:
Inclusive Education Report
2018-2019 School Calendar
IMR Funding Changes
Lac La Biche Sports Fields
The next board meeting will be held on Wednesday, January 17 in Cold Lake (exact location to be determined). The public portion of the meeting will start at 1 p.m.
Posted on