Under the Northern Lights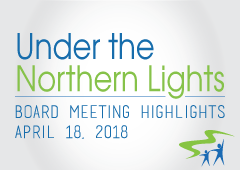 Highlights from the January 17, 2018 meeting of the Northern Lights Board of Trustees include an update on the BCHS modernization project, amendments to two board policies and a presentation on French Immersion and the special Aviation program at Art Smtih Aviation Academy.
FULL HIGHLIGHTS: Under the Northern Lights - January 17, 2018
Our next board meeting will take place on Monday, February 5 in Lac La Biche. The public portion of the meeting will start at 1 p.m. The agenda for the meeting will be posted to the Board Meeting section of our website prior to the meeting.
Posted on