Under the Northern Lights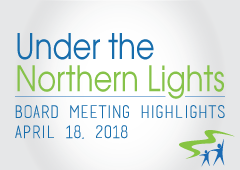 Highlights from the March 14 meeting of the Northern Lights Public Schools Board of Trustees include an update on Transportation and accolades for students and staff throughout the division.
Under the Northern Lights: March 14, 2018
The next board meeting will be held on Wednesday, March 28 at the Bonnyville Division Office. The public portion of the meeting will take place at 3:30 p.m.
Posted on