Under the Northern Lights - August 28, 2018 - Organizational Meeting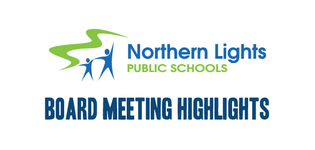 Highlights from the Organizational Meeting of the Northern Lights Public Schools Board of Trustees held on August 28, 2018 in Bonnyville.
The Board re-elected Arlene Hrynyk to serve as chair for the 2018-2019 school year. Michael Topylki was also re-elected as Vice-Chair.


Trustees reviewed and signed the Trustee Code of Ethics.


The Board re-affirmed the Board Meeting dates previously approved in June. Meetings locations will vary with meetings scheduled for Bonnyville, Cold Lake and Lac La Biche. Meeting times will also vary with some starting at 10 a.m. and others at 2 p.m. FULL SCHEDULE


Trustees decided not to make any major changes to committee membership for the 2018-2019 school year. The Board noted that the Finance and Audit Committees had been merged as per a previous board motion. 
BOARD COMMITTEES


Effective January 1, 2019 the federal government is removing trustees' tax-free status. The Board agreed to increase trustee compensation rates to offset this change.


Trustees completed their declaration of interest.
Posted on