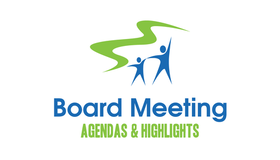 Good News Items
Trustees highlighted their attendance at recent awards night ceremonies at J.A. Williams High School, Glendon School and Bonnyville Centralized High School. Congratulations to all of the students who were recognized for their achievements!


Trustee Karen Packard congratulated Cold Lake Elementary School on its Orange Shirt Day events which included dancers, bannock, and many activities that showcased Indigenous culture.


Trustee Lorne Kaban noted that attendance has been incredible at the school council meetings held at the division's schools in Bonnyville this year and he is appreciative of the feedback that council members have been providing to trustees who have attended the meetings. Trustee Michael Topylki also noted that it is nice to see some of the priorities set by the Board reflected in school plans and discussed at council meetings.
Focus on Student Success Presentation
Bonnyville Centralized High School - Community Garden
Bonnyville Centralized High School students Zach, Natasha and Kennedy told trustees about the Community Garden project they did last year.  The students researched what vegetables and plants grow well in the area and planted flowers, carrots, cucumbers, green onions, potatoes and beets in a garden at the school. Earlier this fall, students harvested the vegetables and donated most of them to the Bonnyville Canadian Native Friendship Centre. They also used some of the beets to make borscht.
Principal Corey Baker explained that while that project focused on how the students could make a difference locally, their next project has a global focus. The students are part of The Global Read Aloud, which has over one million students around the world reading the book Refugee by Alan Gratz. In addition to everyone reading the same book, the students are creating an sending postcards to students in other schools and to refugees living in refugee camps.
Transportation Report
Director of Transportation Matt Richter reported on a successful September start up. Online registrations over the summer assisted with preparations. In-town routes were full within the first 10 days of school and there is now a waiting list for people to access the in-town busing routes. Richter noted that last year, in-town ridership made up approximately 21% of overall ridership and this year he expects that number to be closer to 25%. The division currently does not receive funding from the provincial government to pay for in-town busing.
NLPS Transportation hosted Meet the Bus sessions at Cold Lake Elementary, North Star Elementary, Art Smith Aviation Academy and Duclos School at the end of August to introduce new students and their parents to the bus. These sessions were well-received by participants.
Students at Kikino School, Caslan School and Vera M. Welsh Elementary School in Lac La Biche had the opportunity to take part in Safely on Board training in the last week of September. 
October 22-26 will be School Bus Safety Week. Trustees discussed school bus safety issues, including drivers passing buses when they are stopped to pick up students and their red lights are flashing. Richter said this happens an average of two to three times per week and even occurred on a daily basis on one route at the end of last year. He noted that efforts are being made at a provincial level to make high school students more aware of the rules and the consequences so they are better informed when they get their driver's licences.
The Board will be developing a resolution to take to the Alberta School Boards' Association regarding putting external cameras on all school buses.
Enrolment Report
Bill Driedger, Associate Superintendent - System Improvement, provided the Board with the division's official 2018-2019 enrolment numbers which will determine the funding it receives from Alberta Education. The division's overall enrolment for this school year is 6,012, which is up slightly from 2017-2018. 
Out of School Care Report
Jimmi Lou Irvine, Associate Superintendent - Teaching and Learning, provided the Board with an update on the division's Out of School Care program, currently offered at four of the division's schools (Cold Lake Elementary and North Star Elementary in Cold Lake, Duclos School in Bonnyville and Vera M. Welsh Elementary School in Lac La Biche). The introduction of $25 per day child care at other facilities in the region as well as the expansion of private services is having an impact on enrolments in the out of school care program.
Staff Recognition Evening
This year's Staff Recognition Evening will take place on Friday, May 3 at the Glendon RCMP Hall.