Under the Northern Lights - August 28, 2018 - Regular Meeting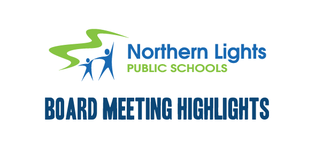 Highlights from the Regular Meeting of the Northern Lights Public Schools Board of Trustees held on August 28, 2018 in Bonnyville.
Good News Items
Board Chair Arlene Hrynyk attended Ecole Plamondon School graduation. She commented that it was great to see the students celebrate their accomplishments and to see all of the family members who have encouraged and supported the students. She noted that the school had two valedictorians this year, both of whom started school in Wandering River.


Trustee Karen Packard attended the Cold Lake High School graduation. She said it was heartwarming to hear the number of teachers mentioned in the student profiles and to learn the impact they had made on students' lives.
Other Highlights
Welcome Back Breakfasts will be happening the next three days in Cold Lake, Lac La Biche and Bonnyville. The Board will welcome staff back to school with a pancake breakfast and some celebrations, including the presentation of its Friends of Education Awards.


Secretary-Treasurer Paula Elock provided the Board with Operations Summaries for June and July, noting current projections show a deficit of approximately $2 million by the end of the fiscal year (August 31, 2018).


Associate Superintendent Bill Driedger provided the Board with a list of 12 locally developed courses that required approval from the Board to be offered in the division for a period of three years. All have been offered in the division previously. The Board approved the following locally-developed courses: Arabic Language and Culture 10, 20 & 30, Competencies in Math 15-5, Forensic Science 25-3 & 35-3, Learning Strategies 15-3, 25-3, 35-3, 15-5, 25-5 & 35-5.


The Board recently participated in the annual retreat for Northern Lights Public Schools administrators. Trustees commented that it was a great opportunity to get to know administrators from throughout the division. Superintendent Rick Cusson noted that the administrators were appreciative of the Board's attendance.


 The Board received information from Alberta Education about changes made to the immunization schedules for students. Instead of students in Grade 5 being offered the opportunity to receive the HPV and Hepatitis-B vaccine in three doses, the schedule will be changed to offer students in Grade 6 the opportunity to receive the vaccine in two doses. Public health nurses will also be working with schools to offer vaccinations to students in grades 1 to 9 who have missed immunizations.


Trustees Mandi Skogen and Karen Packard reported on the Canadian School Boards Association's Annual Congress held over the summer. Amongst other things, they highlighted learnings about mental health literacy, multiculturalism, and community connections. They also participated in the National Trustee Gathering on Aboriginal Education. 
Posted on