Trades and Industry Carnival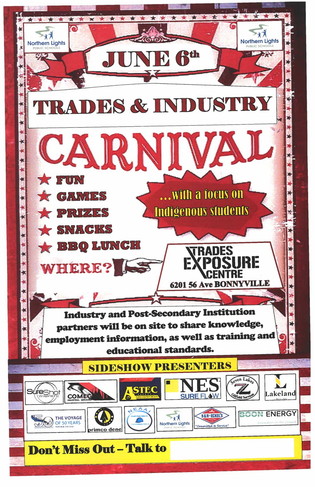 Around 175 high school students from Northern Lights Public Schools and other school jurisdictions in the Lakeland gathered at the NLPS Trades Exposure Centre on Wednesday, June 6 for the FNMI Trades Carnival.
Students had the opportunity to learn about a variety of careers in the trades and post-secondary training through demonstrations, presentations and interactive displays provided by 15 industry and post-secondary partners. 
"It was fantastic to see how engaged the students were in the different activities," said Board Chair Arlene Hrynyk. "For some of them, this introduction to a trade may help them determine what they want to do in the future."
Amongst other things, students were able to try scaffolding, welding, power tongs, and putting out a fire. Students were also treated to lunch courtesy of NES Sure Flow.
Participating industry and post-secondary partners included:
ASTEC Safety
B&R Eckels Transport
Boon Energy
CoMec Industrial Services
Edcon
Lakeland College
NES Sure Flow
North East Alberta Apprenticeship Initiative
Portage College
Primco Dene
Seven Lakes Oilfield Services
Sure Shot Wireline
The day's events also included an address by Saddle Lake Chief Eddy Makokis who spoke about the importance of education and on partnering with the oil and gas industry to ensure the future prosperity of our communities. 
Students and visitors in attendance also got to see other high school students working on the service rig that is on site at the Trades Exposure Centre. Those students are part of the five-day Service Rig Floorhand Training program that is offered to high school students throughout Alberta. More information on our Service Rig Floorhand Program and the Trades Exposure Centre is available at tradesexposure.ca.
Trades and Industry Carnival
Posted on