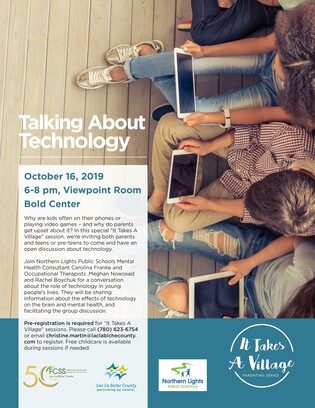 Northern Lights Public Schools is pleased to partner with Lac La Biche County Family and Community Support Services to present "Talking About Technology."
Join NLPS Mental Health Consultant Carolina Franke and Occupational Therapists Meghan Nowosad and Rachel Boychuk for a conversation about the role of technology in young people's lives.
This session will take place at the Viewpoint Room in the Bold Center on October 16 from 6-8 p.m.
Please pre-register by calling 780-623-6754 or emailing christine.martin@laclabichecounty.com. Free childcare is available during sessions if needed.
Posted on