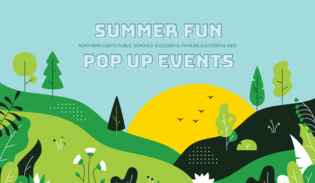 Come meet our Successful Families, Successful Kids Wellness Coaches and enjoy some fun activities and games at our local schools throughout the summer!
To find out where they will be popping up, check out the Successful Families, Successful Kids Facebook page (@SFSKproject) for daily updates. We will also be sharing other fun things happening in our communities as well as activities that you can do at home on Facebook.


QR Code Scavenger Hunt
Want to learn more about your community and complete some fun activities at the same time? Join our SFSK QR Code Scavenger Hunt ! To start, go to any NLPS school and look for the Start Here QR code on the door. Scan it with your phone and start your scavenger hunt. Starting QR codes are also available on our Facebook page.
Find all 6 QR codes in your community and enter to win a prize. There are different scavenger hunts for Bonnyville, Cold Lake and Lac La Biche so if you finish one, take a drive and see if you can complete one in one of our other communities!
Posted on