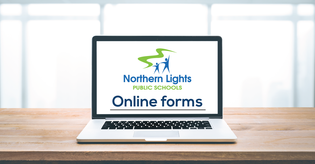 Within the next couple of days, we will be using School Engage, our online form management system, to provide a form to all parents in Northern Lights Public Schools.
Our 2018-2019 SIS Demographic form is a document sent out to all parents on an annual basis that provides you with an opportunity to update or correct the information we have on file for each of your children. It also includes a Notice of Activities, FOIPP consent form, CASL consent form, and the Acceptable Use of Technology form that parents are required to sign each year.
In previous years, this would have been sent home as a package of paper with each child, to be filled out and returned to the school. This year, you will be able to do it online by accessing the form through the PowerSchool Parent Portal.
If you have already set up your Parent Portal account, you will be able to access the form by clicking on School Engage in the lower left hand corner of your dashboard (you will need to do this on your computer, as that option is NOT available through the Parent Portal app).
Once you are in School Engage, please do the following:
Click on Students on the left hand side menu.
Click on the name of one of your children.
Choose the 2018-2019 SIS Demographic form.
Click on the open button (it looks like a computer keyboard and is located on the left).
Fill out the form and click Submit at the end.
Repeat the process for your other children (you need to submit a form for each child).
VIEW THESE INSTRUCTIONS WITH SCREEN CAPS
If you have not already set up your Parent Portal account, you will need to do that first. Instructions are available on the Parent Portal page. To set up your account you will need an Access ID and Password for each of your children. Those are available by contacting your child's school.
If you experience difficulty with accessing or filling out the online form, or wish to request a paper copy, please contact your child's school.
Thank you in advance for your co-operation with this process and the support and patience you have demonstrated as we have implemented this new system. We appreciate all of the feedback we have received and are committed to making improvements that will enhance the experience for all users.
Posted on