School Board Trustee Nominees Acclaimed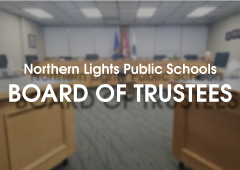 On Monday, September 18, nine individuals submitted their names for nomination to the office of trustee with Northern Lights Public Schools. As of Tuesday, September 19 at 12:00 p.m., those nine individuals have all been acclaimed. The Northern Lights Public Schools Board of Trustees will consist of the following for the next four years:
Ward 1 – Bonnyville and area
Lorne Kaban
Garry Kissel (incumbent)
Michael Topylki (incumbent)
Ward 2 – Cold Lake and area
Karen Packard
Mandi Skogen (incumbent)
Ron Young
Ward 3 – Lac La Biche
Maurice Richard (incumbent)
Ward 4 – Lac La Biche-Plamondon
Arlene Hrynyk (incumbent)
Ward 5 – Lac La Biche South
Debra Lozinski (incumbent)
The new board will meet for the first time on October 25 at the Northern Lights Division Office in Bonnyville.
Posted on