Preventing the Spread of Illness in our Schools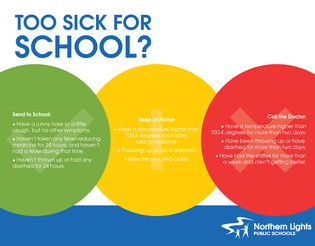 Cough, cough. Sniff, sniff.

This is the time of year when we start to see more students and staff with cold and flu symptoms. It is important that we all work together to prevent the spread of illness in our schools.
We have been getting a few questions about our transition to using green cleaning products in all of our schools and how effective those products are at disinfecting surfaces and preventing the spread of illness. The product we are using is called Vert-2-Go Saber. It is a cleaner, disinfectant, sanitizer and bactericidal. The hydrogen peroxide formula cleanses in 30 seconds and kills non-enveloped viruses, including norovirus and influenza, in five minutes. This is used to clean carpets, windows, bathrooms, desks, whiteboards and other classroom surfaces.
Our schools are cleaned on a daily basis. When large numbers of students are absent due to illness, we work closely with Alberta Health Services to identify additional cleaning procedures that may need to occur. Information is also sent to parents informing them of any special steps they may need to take at home to help prevent the spread of illness.
Here are some things parents and students can do at all times to help reduce the spread of illness in our schools:
Practice proper handwashing.

This is one of the most effective ways to help prevent illness. Please encourage your children to wash their hands whenever they go to the bathroom; after coughing, sneezing, or using a tissue; and after touching parts of their body that are not clean.

Teach them the five steps of handwashing and make it fun!

Wet your hands with warm water.
Lather up with soap. Make sure you include the backs of your hands, between your fingers, and under your nails.
Scrub your hands for 20 seconds - say the alphabet or hum "Happy Birthday" twice.
Rinse your hands under warm, running water.
Dry your hands using a clean towel.
More information is about proper handwashing is available at MyHealth.Alberta.ca.
Stay home when you are sick.
Students who are sick aren't able to participate in class and learn as well, and may spread germs to others.
So how do you know when your child is too sick to go to school? Check out our Too Sick for School Infographic for things to consider when you are deciding whether or not to send your child to school when they are sick.
Information about common minor illness and injury in children can be found on the Alberta Health Services HEAL website, including information about the causes, symptoms and home management options for minor illnesses and when to seek medical care. The content comes from experts at Alberta's Children's Hospital and Stollery Children's Hospital.


Make sure your vaccinations are up-to-date.

Seasonal Influenza immunization clinics are being held throughout our communities during the month of November. For more information, check out Alberta Health Services Influenza Immunization.

In addition to seasonal influenza, vaccinations are also available for other serious illnesses such as whooping cough, chicken pox, pneumococcal disease, meningococcal disease, measles, mumps, rubella and more. More information is available at immunizealberta.ca.
Posted on