NLPS welcomes Dwayne Peace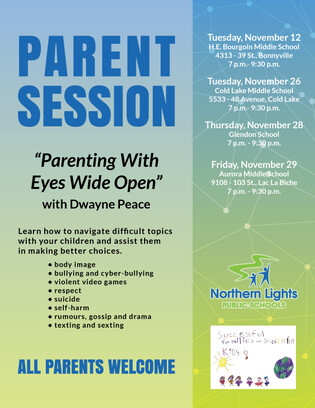 Northern Lights Public Schools is pleased to announce that it will be hosting a series of sessions for parents featuring Dwayne Peace.
Parenting with Eyes Wide Open will provide information to parents about how to navigate difficult topics when having conversations with your children and assist them in making better choices. Topics covered will include:
body image
bullying and cyber-bullying
violent video games
respect
suicide
self-harm
rumours, gossip and drama
texting and sexting
The first parent session will take place at H.E. Bourgoin Middle School in Bonnyville on Tuesday, November 12 at 7 p.m. All parents in the area are welcome to attend and everyone in attendance will be eligible for door prizes, including tickets to a Bonnyville Jr. A Pontiacs game.
Additional sessions include:
Cold Lake Middle School - Tuesday, November 26 - 7-9:30 p.m.
Glendon School - Thursday, November 28 - 7-9:30 p.m.
Aurora Middle School in Lac La Biche - Friday, November 29 - 7-9:30 p.m.
These sessions are being provided through the NLPS Successful Families, Successful Kids (SFSK) program, which is funded through Alberta Health Service's Mental Capacity Building in Schools initiative.
The SFSK program has been expanded in Northern Lights this year to include all schools in the division. Our four wellness coaches provide support to our schools in promoting positive mental health, facilitating access to early intervention and treatment services, and improving knowledge of and access to effective and innovative services across the mental health continuum.
Posted on