Mental Health Webinar: Sense of Control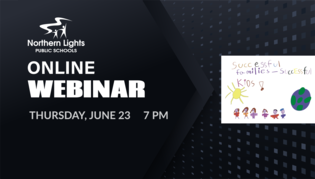 Thank you to everyone who joined us for our first Mental Health online session for parents earlier this month. We had a great time discussing Novelty Stress and sharing ideas about how to support children experiencing stress when they are trying something new or experiencing something for the first time. For those who were unable to attend, we have created a video with the same information that you can watch at a time that is convenient for you: SFSK - Stress Recipe Part 1: Novelty Stress.
We have scheduled another online interactive session for parents and guardians on Thursday, June 23 at 7 p.m. This one will focus on Part 2 of the Stress Recipe: Sense of Control. This session will discuss the stress experienced when you feel like you have little to no control of a situation. Please email communications@nlsd.ab.ca if you would like to participate in this session and we will send you the link once it is available. 
Our online learning sessions for parents and guardians are based on the feedback we received from our Mental Health Survey for Parents. We will be continuing these sessions in the 2022-2023 school year and will share more information with families once school starts in September.
Posted on