Learning from Home May 7 - 25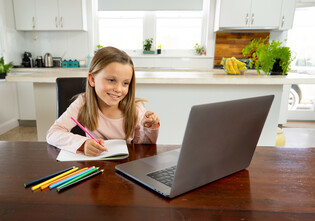 As many of you are already aware, the provincial government announced yesterday evening that all K to 12 students will be learning from home starting on Friday, May 7 until after the Victoria Day long weekend (returning to in-person classes on Tuesday, May 25). 
Today we received more details from Alberta Education about what the expectations are for teachers and students during the learning from home period and we were able to confirm what this means for Northern Lights Public Schools staff and families.
We know learning from home will be challenging for many families, particularly those with young children and more than one child learning from home. We are committed to working with families to ensure that students are able to participate in learning for the next two weeks to the best of their ability. The two-week shift to learning from home will look different for students in Kindergarten to Grade 6 than it does for students in grades 7-12. This will be outlined in greater detail below.
Students with disabilities or specialized support plans whose needs cannot be addressed at home will be able to continue to attend school. Please discuss this option with your child's school if you think your child is eligible. 
These two weeks will be considered part of the regular school year, and all students (K to 12) are expected to participate to the best of their ability, as they are at any other point during the school year. Parents/guardians may choose to excuse students for a variety of reasons (illness, travel, etc.) and should contact their child's teacher, preferably in advance, to make arrangements for missed assignments the same way they would if students were missing school due to illness or a sports tournament or family vacation.

Attendance
Teachers will be taking attendance on a regular basis (at least once a day). If students are  unable to attend a class or participate in learning on a particular day, parents should report their absence the same way they would if they were absent from an in-person class (using School Messenger or calling the school directly).
Attendance notification will be sent to parents if students do not check in with their teachers at designated times and parents have not reported their absence to the school.
Technology Requirements
All teachers will be using Google Classroom to share assignments and connect with students. Teachers have spent time teaching their students how to log in and use Google Classroom and other Google tools. You may also have received instructions from your child's teacher on how to assist them with logging in and accessing Google Classroom.
Parents who are unfamiliar with Google Classroom, or accessing Google Classroom for the first time, are encouraged to view one or both of these videos. This will help parents support their child in their learning.
Students will need access to a reliable working device such as a Chromebook, laptop, or desktop computer to fully participate. Ideally students will have their own device so they can connect with their teacher and complete assignments, however, we realize that may not be possible for all families.

Schools have procedures in place for families to sign-out Chromebooks if students do not have devices for use at home. Please contact your child's school if you would like to sign-out a device for your child.

In the event that online learning is not possible in homes due to a lack of connectivity, parents can contact the school to make alternate arrangements.  
Expectations for Parents
Parent support will be important for students to be successful with learning from home. Parents are encouraged to provide the appropriate level of supervision and support given the age and needs of their children. It remains important for parents to check in regularly with their children to ensure they are participating in learning opportunities, and completing assignments. Parent assistance may also be required to troubleshoot issues with technology and connectivity.

Regular communication with your child's teacher will also be important both to ensure student progress and to advise the teacher of any challenges you are experiencing and what additional support or assistance your child may need to be successful.
Timetables and Instruction - Kindergarten to Grade 6

The expectations from Alberta Education are that teachers will focus primarily on literacy and numeracy for students in Kindergarten to Grade 6. Students will not be expected to spend their entire day online connected to their teachers and the rest of their class. Instead, instruction will be a combination of synchronous (online) and asynchronous (offline)  learning opportunities.


Grades 5 & 6

Grades 5 & 6 students in Northern Lights Public Schools will follow timetables similar to those they follow during in-person classes. In addition to a focus on numeracy and literacy as directed by Alberta Education, grades 5 & 6 programming will also address social studies and science outcomes


Grades K-4

Programming for students in Kindergarten to grade 4 will focus primarily on literacy and numeracy. Lessons will be uploaded to Google Classroom regularly.  Students in grades 1 to 4 will connect with their teacher and other students in their class at two pre-scheduled times during the day:

Grades 3 & 4 - 8:50 a.m. - 9:50 a.m. and 12:30 p.m. - 1 p.m.
Grades 1 & 2 - 10 a.m. - 11 a.m. and 1:15 p.m. - 1:45 p.m.
Kindergarten students will connect from 11:10 a.m. - 11:55 either every day (for schools with only one Kindergarten class) or on alternating days (schools with multiple classes). Please check with your child's teacher to confirm which days they need to connect.
Please note that times have been staggered to support families with limited connectivity and/or devices. We realize this will not address all issues with connectivity and shared devices, but we are hoping it will reduce some issues.

This is when attendance will be taken and teachers will provide instruction related to the assignments that have been provided for that day. Teachers may also ask students to connect online for group work or one on one meetings during the day. Teachers will communicate the times when this will occur. Teachers will also provide students and parents with information on how they can be contacted throughout the day to answer questions and connect with students who may need assistance.


Timetable and Instruction - Grades 7-12
The expectations from Alberta Education are that programming will remain as consistent as possible for students in grades 7 to 12. Northern Lights Public Schools will be maintaining a timetable consistent with that of in-person learning. Teachers will be available to lead learning and support learners during their regular class time. Teachers are expected to continue to deliver and evaluate curricular outcomes. 

Questions?
As always, if you have questions, please feel free to contact your child's school, send an email to communications@nlsd.ab.ca or submit a question in our Northern Lights Public Schools Questions and Answers group on Facebook.


Posted on