International Day of Acceptance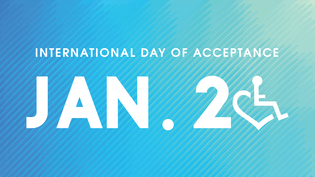 On January 20th, people around the world are celebrating International Day of Acceptance.  This is a day for people to celebrate social acceptance of disability and to honour the late Annie Hopkins. Annie Hopkins is an advocate, entrepreneur, artist and student who broke down barriers for herself and others living with disabilities. Annie and her brother, Stevie, are the founders of 3E Love.  A company dedicated to changing the perception of disability. They believe that for social change to happen we need to:
Embrace diversity.
Educate our community. 
Empower each other. 
Love life.  
Acceptance is the key to anyone feeling like they belong and are part of our community.  We are stronger together and when we are willing to embrace diversity at all levels amazing things will happen.
As an Occupational Therapist, one of the most powerful lessons I have learned from the students, families and school teams I have the privilege to work with is that acceptance is at the core of belonging.  And when we ALL have a sense of belonging and purpose, then we will create a community where everyone feels included.  
I invite you to join me in celebrating International Day of Acceptance and continue the conversation about what acceptance means for you, your students, families and school teams.  
Meghan Nowosad
Occupational Therapist
Here are some resources to assist you with learning more, continuing the conversation, and spreading the word about the importance of Acceptance.
Day of Acceptance: Spread the Word
Posted on