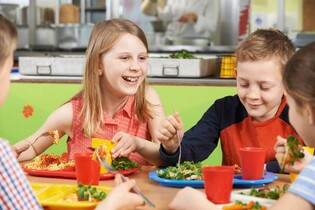 Request for Proposals
to provide
Food Service at Glendon School
Glendon School invites proposals to provide food service to the school commencing Tuesday, September 3, 2019.  Glendon School serves approximately 230 students in grades K - 12 with approximately 30 staff.
The provider will submit a proposal to operate the entire function of the school canteen including, but not limited to, purchasing the foods, preparing foods and selling the food.
In exchange, the school will
Collect a fee per month for the use of the school site as well as 2% surcharge on any online orders placed through SchoolCashOnline (any profit will remain the property of the provider)
Print monthly order lists as well as concession punch cards
Advertise monthly concession menus
The proposal will be assessed on the provider's ability to provide the following:
Healthy food choices, both hot and cold items, as outlined in the Alberta Nutrition Guidelines for Children and Youth with a menu focus that closely relates to the recommendations highlighted starting on page 54
https://open.alberta.ca/dataset/1c291796-4eb0-4073-be8e-bce2d331f9ce/resource/3319786c-1df1-43ca-8693-067f733682dc/download/nutrition-guidelines-ab-children-youth.pdf
Support the healthy food goals as outlined in Glendon School Wellness Guideline (attached below)
Provide daily lunch service with exception to

Thursday's when the A.P.P.L.E. School free hot lunch is served to students.
First operational Friday of each month when a school fundraiser occurs.
Lunch hour service is from 11:50-12:27 pm servicing students from Kindergarten through Grade 12 as well as staff. In the event that the above two exceptions cease,  the vendor would sell a lunch on these days as well.
On the event of a snow day where buses are not running our limited, the hot lunch planned for that day is served on the Thursday of a free hot lunch; concession can still be in operation during free hot lunch day and school fundraising days for snacks and drink sales.
Provide food service for any special events (such as athletics) occurring after schools and/or on on Friday evenings and Saturdays throughout the school year.
Provide a sample monthly menu and corresponding prices.
The service contract is available from September 1, 2019 to June 30, 2020  
The service provider must be approved by the Public Health Inspector (Environmental Health Officer/Executive Officer) with Alberta Health Services.
Interested food service providers should forward a comprehensive written proposal, detailing the proposed rental amount that will be provided to the school (monthly payment made during school year only) including the requirements noted above.
Questions may be directed to Mrs. Maureen Ference 780-635-3881 or maureen.ference@nlsd.ab.ca.
Proposals are due on or before August 21, to:
Mrs. Maureen Ference, Principal
maureen.ference@nlsd.ab.ca
Glendon School
Box 120
Glendon, AB  T0A 1P0
Posted on