Early Learning Open House and Registration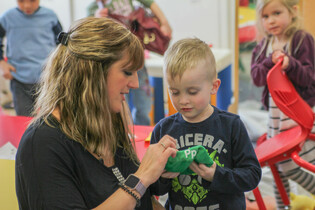 Northern Lights elementary schools will be hosting Early Learning Open Houses on Friday, April 5 to give parents and children an opportunity to learn more about our preschool and Kindergarten programs.
"This is a great opportunity to come meet our staff, check out our schools and ask any questions you have about our preschool and kindergarten programs," said Board Chair Arlene Hrynyk. "We are excited to welcome new students and their families to Northern Lights Public Schools."
Some schools are also hosting events on Thursday, April 4. Dates and times for events at each location are listed below. (Please note Wandering River School will not be holding on open house on April 5.)
Last year, Northern Lights introduced a new online registration process for preschool and kindergarten. Existing preschool students can re-enroll in preschool or register for kindergarten by logging into the PowerSchool Parent Portal. Students who are new to Northern Lights can register online through our website. Full instructions are available on our Preschool and Kindergarten pages. Registration opens on April 5.
This year, parents registering their child for kindergarten will also be able to register for transportation and out of school care at the same time.
"As part of our focus on improved communication and parent engagement, we want to make registration as easy as possible for parents," explained Hrynyk. "We have made a number of changes based on feedback received last year that we hope will improve the experience for parents."
The Northern Lights Care to Learn Preschool program is located in eight Northern Lights schools - Ardmore School, Cold Lake Elementary School, Duclos School in Bonnyville, Glendon School, Iron River School, North Star Elementary School in Cold Lake, Vera M. Welsh Elementary School in Lac La Biche, and Wandering River School.
All Care to Learn Preschool locations offer a three-hour (half-day) program. Some locations offer AM or PM classes, as well as options to attend two or three days per week. Duclos School also offers a full-day option where children can attend preschool five days a week.
Care to Learn Preschool is a developmental preschool, providing learning, growth and play opportunities for children aged three and four through music, arts and crafts, games, physical activity, early math and literacy centres, and more.
All of our elementary schools offer a full-day Kindergarten program that operates five days a week. The full-day program allows us to enhance the provincial curriculum in all areas so students receive additional instruction in literacy and numeracy (a priority area for the school division), as well as more time learning through play, which is a critical component of early learning.
Children who turned four before March 1, 2019 may register in Kindergarten for the 2019-2020 school year.
Early Learning Open House Dates and Times
Art Smith Aviation Academy

Parent Information Night
Thursday, April 4
6:30-7:30

Open House (Preschool and Kindergarten)
Friday, April 5
9:00-12:00 or 1:00-3:00

Art Smith Aviation Academy has English and French Immersion Kindergarten programs, discounted on-site Out of School Care, and Preschool at the MFRC.

Cold Lake Elementary School

Parent Information Night
Thursday, April 4
6:30-7:30

Preschool Open House
Friday, April 5
9:00-11:30 or 12:30-3:00
Drop-ins encouraged

Kindergarten Open House
Friday, April 5
10:00-11:00 or 1:00-2:00
Please call to register

 

North Star Elementary School

Open House (Preschool and Kindergarten)
Friday, April 5
9:00-11:45

Parent Information Session
Friday, April 5
11:00-12:00

Please call ahead to register

Ardmore School

Open House (Preschool and Kindergarten)
Friday, April 5
9:00-12:00

Come meet the teacher, see the classrooms, and check out the programs.

 

Duclos School

Parent Information Night
Thursday, April 4
6:30-7:30

Meet in the library to learn more about our Kindergarten classes, meet the staff, and ask about our early learning programs. 

Open House (Kindergarten and Preschool)
Friday, April 5
10:00 - 11:00 and 1:00 - 2:00


Enjoy a tour of the school and some early learning experiences with your child in the Kindergarten classrooms. Chromebooks will be available to complete online registration. Please call ahead to reserve your spot.

Iron River School

Open House (Kindergarten and Preschool)
Friday, April 5
9:00-11:40

Meet the teachers, see the classrooms, and register for Preschool and Kindergarten

Glendon School

Open House (Kindergarten and Preschool)
Friday, April 5
Drop in between 9-3:30.

Come meet the teacher and participate in some kindergarten activities. Stay as long as you'd like; No appointment necessary!

 

Kikino School

Open House (Kindergarten only)
Friday, April 5

Drop in any time in the morning, or participate in planned activities all afternoon. Includes Family Outreach Program information and session.

Caslan School

Open House (Kindergarten only)
Friday, April 5
Drop in any time, all day long.

Vera M. Welsh Elementary School

Barbecue/Parent Night
Thurday, April 4
5:00-7:00

Open House (Preschool and Kindergarten)
Friday, April 5

Both days there will be:
• Agencies in the gym
• Kindergarten teachers hosting activities/tours/answering questions in classrooms
• EAs will run activities in foyer and gym
• BBQ out front

Ecole Plamondon School

Open House (Kindergarten only)
Friday, April 5
9:00-3:00

Parents and children will explore how the Kindergarten program runs at Ecole Plamondon School. Play and learning centres will be open for you to try as a sample.

Wandering River School

 

DATE TBD

 
Posted on