Nomination open for 2019 Friends of Education Awards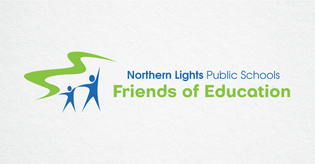 The Northern Lights Public Schools Board of Trustees is now accepting nominations for its 2019 Friends of Education Awards.
"We have many wonderful community groups, individuals and businesses who go above and beyond for our students," said Board Chair Arlene Hrynyk. "The Friends of Education Awards provides the Board with an opportunity to say thank you and to showcase some of the work being done in our communities to support our students."
The Friends of Education Awards recognize organizations or individuals who have made special contributions to education in Northern Lights Public Schools, either at more than one school or for a significant time frame. This is the ninth year the awards will be presented.
Last year's award winners were Britton's Your Independent Grocer, Cold Lake Veterinary Clinic and Ardmore Fire Department. See our profiles of previous Friends of Education Award Recipients for more information. 
The Board will be accepting nominations for the 2018 Friends of Education Awards until Friday, May 31. 
Link: 2019 Friends of Education Guidelines and Nomination Form
Posted on