2021 Friends of Education Nominations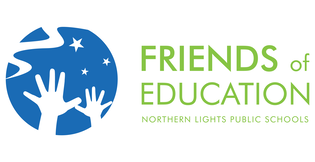 The NLPS Board of Trustees is accepting nominations for its 2021 Friends of Education Awards.
"We are always grateful for the contributions our volunteers, community organizations and local businesses make to support our students and schools. This year has been especially challenging for our schools and our communities and we have been overwhelmed by the efforts made to ensure amazing things continue to happen for our students," said Board Chair Arlene Hrynyk. "We are looking forward to reviewing the nominations for this year's awards and recognizing the outstanding work being done to ensure all of our students have the opportunity to learn and excel."
The Friends of Education Awards were introduced in 2010 to recognize individuals and organizations that make special contributions to education in Northern Lights Public Schools, either at more than one school or for a significant time frame. Every year, the Board of Trustees asks staff, students, parents and the public to nominate people they feel are deserving of the award. A committee reviews the nominations and chooses at least three recipients to receive recognition.
To nominate someone for the award, please fill out the Nomination Form on our Engage NLPS site. The deadline to submit a nomination is June 18, 2021.
This is the 11th year the awards will be presented. The COVID-19 pandemic has delayed the presentation of some of the 2020 awards, but we are hoping to recognize those recipients soon.
Profiles of previous award winners are available on our website: Friends of Education Award Recipients(External link).
Posted on