2018 Staff Recognition Event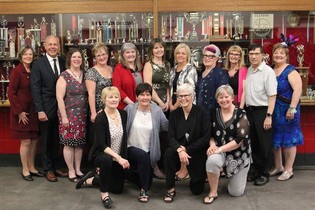 Board recognizes retirees, long serving staff
The Northern Lights Public Schools Board of Trustees celebrated 17 retirees and recognized 144 staff at its annual Staff Recognition Evening held in Glendon on Friday, May 4.
"It was wonderful to have so many of our staff join us in celebrating the accomplishments and contributions their colleagues have made to Northern Lights," said Board Chair Arlene Hrynyk, noting there was record attendance at this year's event. "This is our opportunity to thank our staff for the work they do in our schools every day to benefit our students. They go above and beyond to ensure our students have the best possible opportunity to achieve success and we really can't thank them enough for everything that they do."
This year's event recognized 17 retirees who have served a combined total of 489 years with the school division. They included two principals, division office staff, teachers and school support staff. The Board also recognized staff who have served with the division for five, 10, 15, 20, 25, 30 and 40 years. This year the Board recognized 10 staff that have worked in the division for 30 years or longer.
The Board also recognized former trustees Nestor Kunec and Rod Soholt for their service to the school division and this year's Edwin Parr nominee, Colby Bowers.

MORE (including a full list of this year's honourees) >>
Staff Recognition 2018
Posted on