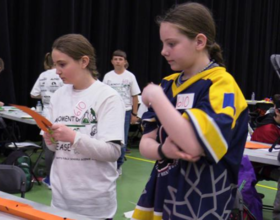 The 2018 Science Olympics featured pennies, marbles and eggs – some smashed and some intact – as students in grades 6 to 9 had their creativity, teamwork and STEM skills tested at the event held at the Bonnyville and District Centennial Centre on Thursday, April 12.
Over 300 students from schools throughout Northern Lights competed in teams of five to solve three challenges and claim the title of Science Olympics champions.
FULL NEWS RELEASE: NLPS students rise to the challenge at 2018 Science Olympics 
Thank you to our sponsors: Devon Canada, Imperial, Canadian Natural, Cenovus Energy, Britton's Independent Grocer, Spatial Technologies, EDCON Power Tongs, The Stitchin' Man, boom 103.5, Kool 101.3, boom 95.3 and Lac La Biche Post.
1st Place Winners
Grade 6 – Iron River School – Daring Dragons
 Kody Mathes
Decon Tkachuk
 Gabby O'Quinn-Brennan
Jessica Winchester
 Joey Bienvenu
Sonja Theriault
Grade 7 – Aurora Middle School – Little Piglets
Arden Kozakevich
Brohden Rolph
Keithan Beniuk
Jayron Cardinal
Grade 8 – Iron River School – Grade 8
Dacia Irvine
Nate Svendsen-Dumencu
Breanna Mathes
Quincy Tizzard
Mia Theriault
Grade 9 – Bonnyville Centralized High School – Team 3
Lane Lussier
Kohen Fraser-Marks
Riley Debler
Emma Zuk-Ellerton
Tanner Normand
2nd Place Winners
Grade 6 – Cold Lake Middle School – Starry Night
Zahrah Haque
Brady Woloshyn
Kael Roszell
Cadence Katuski
Amelia Gurski
Grade 7 –  Kikino School – Kikino Eagles
Raine Johnson
Meagan Sparklingeyes
Drayden Laviolette
Aiesha Bruno
Ryan Hope
Grade 8 – Cold Lake Middle School – Electric Einsteins
Bailey Svoboda
Cole Stahn
Nicholas Morawietz
Seth Grunder
Dawson Walker
Grade 9 – J.A. Williams High School – JAWS 1
Jose Thibert
Justin Schalin
Cadence Kruk
Zac Krylchuk
Tialandis Guinand
3rd Place Winners
Grade 6 – H.E. Bourgoin Middle School – Mighty Chondria
 Alexa Gaugler
Kate Mahon
 Daniel Severyn 
Avori Wheeler
 Nate Wolgien
Grade 7 – Cold Lake Middle School – The Kool Team
Avery Hill
Jenna Baker
Lena Wiebe
Meia O'Dell
Angelina Vicerks
Grade 8 – Aurora Middle School – We've Got Chemistry
Anna McCordic
Macy Cardinal
Corwin Schieck
Evanlee Alook
Jade Wowk
Grade 9 – Bonnyville Centralized High School – BCHS PGL
Austin Bishop
Jaydon Oestreicher
Justin Hall
Connor Morin
Owen Lawton