Community Helpers Training Session for Adults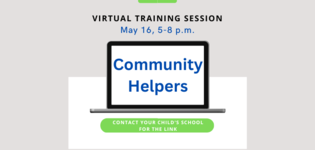 As part of our commitment to improving student mental health, NLPS is pleased to offer parents the opportunity to participate in a Community Helpers training session. The training will  provide practical skills that can be used in daily life to help support others' mental health and well-being, and takes approximately three hours.
The session will be hosted online on Tuesday, May 16 from 5 p.m. to 8 p.m. Parents/guardians who wish to participate should request the link from their child's school. 
The Community Helpers program:
bridges "formal" and "informal" support for young people,

focuses on prevention and early identification for young people who may be at risk,

provides extensive training in resources, linkages, and support,

provides a model for community capacity building related to the issue of youth mental health promotion,

reduces stigma by increasing community awareness,

expands knowledge on mental health issues, and

improves interventions for those who may be at risk of suicide.
Many of our middle school and high school students have completed the training over the past two years and are actively supporting the mental health of their peers in their schools.
Posted on