Committee considers configuration options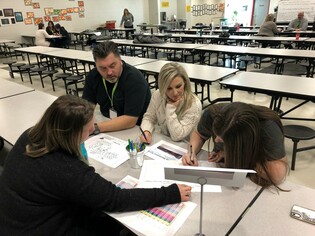 The NLPS Cold Lake Configuration Committee is moving closer to providing some options for the community to consider.
The committee is made up of parents and administrators from each of the public schools in Cold Lake - Art Smith Aviation Academy, Cold Lake Elementary School, Cold Lake High School, Cold Lake Middle School, Nelson Heights Middle School and North Star Elementary School. 
Working with division administration, the committee has been examining data and the factors affecting enrollment and capacity at public schools in Cold Lake. At the most recent committee meeting on February 4, committee members reviewed enrollment projections, transportation boundaries, research on different configurations and school transitions, and facility considerations.
The committee then split into groups to discuss each school and potential scenarios that would alleviate pressure at the schools that are currently experiencing or are expected to experience capacity issues in the next couple of years. Many potential options were identified.
Those options will be further refined at the committee's next meeting. The committee will also discuss ways to consult with and collect feedback from the community on the options that have been identified.
Posted on