Under the Northern Lights - September 29, 2021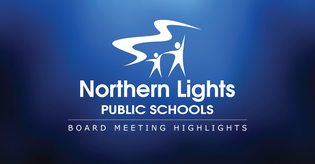 2021 Friends of Education Award - B&R Eckels Transport Ltd.
Board Chair Arlene Hrynyk presented Roxanne Ringuette from B&R Eckels Transport Ltd. with a 2021 Friends of Education Award.
For nearly a decade, B&R Eckels has transported the division's Mobile Trades Lab to and from schools throughout the Bonnyville and Cold Lake area. This has allowed NLPS to offer hands-on welding programming to students at our middle schools and provide them with an introduction to the trades.
B&R was one of the partners who came together to establish the division's Trades Exposure Centre, which allows NLPS to operate its service rig training program for high school students. The centre also hosts an annual Indigenous Trades Carnival and B&R has participated by sending equipment and staff to share information with students about different careers.
In addition, B&R generously supports many school fundraising initiatives, providing financial support as well as in-kind donations. This includes everything from sending their big barbecue and staff to flip burgers and hot dogs at events, to sending a team to help move a sea can or relocate some equipment for a school. 
More information about the award is available on our website: 2021 Friends of Education Award: B&R Eckels Transport Ltd.
A second 2021 Friends of Education Award and two 2020 Friends of Education Awards are scheduled to be presented at the October 13 board meeting. 
Good News Items
Trustees and administration were wearing orange shirts in recognition of Orange Shirt Day and the National Day of Truth and Reconciliation on September 30. NLPS has chosen to recognize September as a holiday, so the divisions schools were hosting a variety of activities and events to commemorate the date on September 29th.


Trustee Garry Kissel congratulated Glendon School on a successful Terry Fox Run. The school raised $3,000. 
Trustee Lorne Kaban commended Duclos School Council the excellent turn out at their first meeting of the 2021-2022 school year. He commented that it was nice to see so many parents committed to supporting students and staff.


Superintendent Rick Cusson commented that it has been exciting to see students engaged in extracurricular activities again this year. The ability to have students active in sports and other activities has been very beneficial for students.  


Dallin Schmidt, Communications Assistant, presented the September 29 edition of Good News, featuring highlights from schools throughout the division.
Summer School 2021
Associate Superintendent Terry Moghrabi provided the Board with a report on Summer School 2021. This summer there was an increase in the number of students enrolled in Summer School, largely as a result of the COVID-19 pandemic. A total of 140 students completed courses this year, which was a 60% increase.
This year the division required a $25 fee when students enrolled in Summer School. This was to ensure that students were committed to attending, and assisted with securing staff to teach the courses.
The Board passed a motion to track the outcomes of all students who take Math 15 (not just those who completed the course in Summer School) to ensure that it is a valuable program that fulfills its role.
COVID Operational Update
Associate Superintendent Bill Driedger shared the new COVID-19 Information for K-12 Schools and School Buses. This document was updated on September 20, 2021 on the government's website, but school divisions were not informed that the document was available until September 27. This document replaces the previous 2021-2022 School Plan and guidance for respiratory illness documents divisions were given at the beginning of the year.
Following the Board's motion at its Sept. 15 meeting to introduce a process to inform parents of COVID cases at schools, NLPS developed a protocol for reporting and implemented it on September 23. Since that time, 13 schools have shared information about a total of 44 cases with parents.
In addition, schools continue to contact AHS when absences due to illness are greater than 10%. This has resulted in respiratory illness outbreaks being declared at eight of the division's schools so far this year.
Superintendent Rick Cusson reported that so far, there have only been two days when substitute teachers could not be secured to fill in when staff were absent, which is an improvement over last year. He told that Board the division is not at the point where they need to consider a shift to learning from home, but it does look likely that will happen at some point this year.
BCHS Grand Opening
The BCHS Grand Opening that was originally scheduled for October 1 has been cancelled. It will be rescheduled for a later date when health restrictions allow for larger gatherings.
Election Update
Elections will take place in three wards - Ward 1 - Bonnyville, Ward 3 - Lac La Biche and Ward 4 - Lac La Biche - Plamondon.
More information can be found on the Elections page on the NLPS website.
Posted on