Under the Northern Lights - October 7, 2020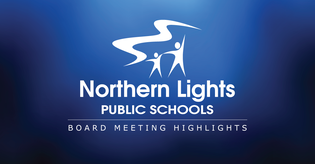 PSBAA Awards Presentation
Public School Boards' Association of Alberta Director Dennis Neil presented the PSBAA's Special Contribution to Public Education - Media Award to Robynne Henry from the Bonnyville Nouvelle. Henry was nominated by the Northern Lights Public Schools Board of Trustees and was recognized for her "balanced, fair, well-rounded reporting."
PSBAA Presentation
Public School Boards' Association of Alberta President Cathy Hogg and Executive Director Troy Tait joined the meeting via Zoom to share information about PSBAA and what initiatives the organization has underway.
Hogg reported that she has had several meetings with the Education Minister over the last few months. During their most recent meeting, Hogg advocated for boards to be "held harmless"  for the 2020-2021 school year due to the pandemic.
PSBAA also continues to raise awareness of public education, what it means, and the issues that are impacting it. Hogg said many people do not understand the  difference between public schools and alternate systems such as separate schools, charter schools and private schools, and PSBAA is looking at what can be done to inform the public and clarify perceptions. 
Good News Items
Trustees thanked schools for the warm welcome they received when delivering Welcome Back bags for staff over the last couple of weeks. They noted it was great to see students excited to be back at school and to hear about the unanticipated positive benefits of some of the changes made due to COVID. Several staff have recommended that some of the adjustments made at schools should remain, such as staggered entry at the start of the school year.
Transportation Update
Matt Richter, Director of Transportation, reported that the preparation for and start of the new school year was particularly hectic this year due to COVID-19 requirements, Mandatory Entry Level Training (MELT) and the re-introduction of in-town busing fees. 
COVID information and sanitization supplies were sent to contractors prior to school starting and measures such as seating plans were implemented immediately. Drivers and students have adjusted well to the new requirements.
Last year, Richter predicted there would be a bus driver shortage at the start of the 2020-2021 school year due to MELT and, unfortunately, that prediction has come true. NLPS and its contractors are working hard to train drivers and address the shortage. but it has been challenging to recruit new drivers. There is also a lack of trained spares, so with increased absenteeism due to COVID illness and isolation requirements, sometimes there are no drivers available and routes have to be cancelled. The NLPS Driving School has done S-course training with close to 70 drivers and MELT training with five individuals so far and has more training planned throughout the fall.
Richter reported that 275 students applied for in-town busing this year. Fees were waived for students in Kindergarten to Grade 4 that were over 1.6 kilometres from their designated school, leaving 186 who were required to pay a fee. There are currently another 50-60 students who have expressed interest in busing, but have not committed yet. 
September 30 Enrolment Report
Bill Driedger, Associate Superintendent - System Improvement, gave a brief update on enrolment, noting not much had changed since the preliminary report given to the board earlier in the month.
Over 95% of NLPS students are attending in-person classes, which is higher than in many other parts of the province. The other five per cent are either enrolled in the Learning Together Anywhere program or pursuing home education in connection with an NLPS school. 
Driedger reported that the majority of students who hadn't yet shown up for school at the time of his preliminary report had made contact with their schools and started attending. There are some students who are still unaccounted for (haven't shown up for school and no other jurisdiction has asked for their records), and schools continue to try to contact those families. Driedger said Alberta Education has advised that this is an issue in other jurisdictions in the province as well, and that the percentage in NLPS is lower than other divisions.
Out of School Care Report
Jimmi Lou Irvine, Associate Superintendent - Teaching and Learning, provided the Board with an update on the division's Out of School Care programs.
In mid-March, when schools were closed to students, the division's Out of School Care program was shut down and parents were reimbursed the fees they had paid for the program. Irvine pointed out that the program is funded by fees paid by parents, not by education dollars, so due to a lack of revenues, staff were terminated.
The division received funding from the federal safe restart program to re-open the Out of School programs in the fall. Irvine said this allowed for staff to be hired and begin the preparation that was needed. While enrolment has changed this year, NLPS is committed to offering this program to its families.
Administrative Procedures
Trustees reviewed the schedule for sharing a number of Administrative Procedures that have been updated, some of which will be circulated to stakeholders for feedback before being finalized. Six updated Administrative Procedures will be shared for feedback prior to the end of the year.
Five Administrative Procedures were reviewed by the Board. Administrative Procedure 110 - School Councils/Parent Advisory Committees and Administrative Procedure 520 - Fund-Raising will be shared with stakeholders for feedback. Administrative Procedure 541 - Facilities Safety and Security, Administrative Procedure 544 - Smoking, Vaping, Tobacco and Cannabis Products, and Administrative 547 - NLPS and School Branding have been finalized and the updated versions will be shared with all stakeholders and posted on the NLPS website.
All Board Policies and Administrative Procedures can be viewed in the Policies and Procedures section of the NLPS website. All Administrative Procedures that have been circulated to stakeholders for feedback can be found on our Feedback page.
Lakeland Communities Health Advisory Council
Superintendent Rick Cusson and Board Chair Arlene Hrynyk will be attending an upcoming Lakeland Communities Health Advisory Council meeting. The meeting includes a presentation and a question and answer session and Cusson said NLPS will be taking the opportunity to ask questions and clarify some changes that have been made to the services NLPS students were receiving from Alberta Health Services. 
Cold Lake Configuration Committee Meeting
The Cold Lake Configuration Committee will be meeting on October 15 to discuss its next steps. The committee had been ready to present several possible configuration scenarios to stakeholders in Cold Lake for feedback prior to the cancellation of in-person classes in mid-March. Due to the pandemic, the consultation process was put on hold.
Paula Elock, Secretary-Treasurer, said the committee will look at the current enrolment in Cold Lake schools and discuss how that impacts what was originally planned and how they would like to proceed.
System Day Update
Bill Driedger, Associate Superintendent - System Improvement, reported that presenters and a keynote speaker have been confirmed for System Day on Monday, October 26. The event will be virtual this year, with staff connecting from their school sites. George Couros will be the keynote speaker.
Modified Calendar for Glendon School
Superintendent Rick Cusson presented a request from Glendon School to join the collaboration sessions being held by Ardmore, Iron River and Caslan School. Those schools meet together three times a year to provide teachers with the opportunity for collaboration. Participation would require a change to the current school calendar, adding three no school days for students. 
The Board approved the modified calendar for Glendon School, which includes Collaboration Days (no school for students) on November 2, January 29 and March 22. The full version of the Modified Calendar is available on the NLPS website.
Posted on