Under the Northern Lights - November 27, 2019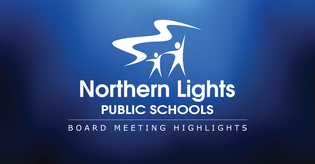 Good News Items
Trustee Debra Lozinski presented two pictures given to the Board at the recent 10th anniversary celebration of the Lac La Biche Little Sprouts Child Care Centre. The pictures were given to NLPS in recognition of the strong support the division has provided to the organization.


Board Chair Arlene Hrynyk thanked this year's new Student Voice committee which met for the first time on Wednesday. The committee is made up of two students from each NLPS high school. Over the course of the year, they will seek input from their peers to answer three questions given to them by the board.


Trustee Karen Packard commended NLPS staff on all of the hard work put into preparing report cards and hosting parent teacher interviews over the last couple of weeks. 


Trustee Lorne Kaban shared the positive feedback he received at a recent school council meeting for the incredible work that teachers and support staff do to develop relationships and acknowledge the gifts that each student brings to the school community. He commended staff for their work in forming strong bonds with students and creating positive, inclusive school environments.


Terry Moghrabi, Associate Superintendent - Human Resources, congratulated Aurora Middle School on their recent viral social media post. A post that showed students in the school's outdoor education class butchering a deer was viewed by over 6 million people and resulted in 1.5 million interactions. 


Bill Driedger, Associate Superintendent - System Improvement, expressed his appreciation for the division's critical incident response team. He noted the division has a very strong team that is focused on ensuring staff, students and families have the support they need in difficult times. Superintendent Rick Cusson noted that other Northern Lights schools have been generous in offering resources and support for schools in need. "It really speaks to the community we have in NLPS as a whole, that we come together in challenging times," he said.


Board Chair Arlene Hrynyk complimented Aurora Middle School on the partnerships it has built with the community, noting the Lac La Biche Rotary Club recently held a meeting in the school's growing dome.
Audited Financial Statements
Jeff Alliston from Metrix Group LLP presented the 2018-2019 audited financial statement to the Board of Trustees. The division had budgeted for a deficit of $1.2 million, but ended the year with a $658,000 deficit in part due to revenues being higher than expected.
2020-2021 School Calendar
The Board reviewed the proposed 2020-2021 school calendar that it had approved in principle last year. No changes have been recommended and it will now be sent to stakeholders for feedback.
2020-2021 Draft School Calendar
Annual Education Results Report and Three-Year Education Plan
Bill Driedger, Associate Superintendent - System Improvement, reported that Alberta Education had extended the deadline for boards to submit their Annual Education Results Report (AERR) this year. Normally it would be submitted at the end of November. 
The division's combined AERR and Three-Year Education Plan will come to the Board for review and approval on December 13th. Driedger noted that the Three-Year Education Plan will include four goals set for the division by Alberta Education as well as details on how NLPS will address its two division priorities: improving students' numeracy skill and improving students' mental health and wellness.
Prix Ami De L'Education 2019
Board Chair Arlene Hrynyk thanked East Central Francophone Education Region for nominating Northern Lights for the 2019 Prix Ami De L'Education award from the Federation des Conseils Scolaire francophones de l'Alberta. NLPS was recognized for its work in collaborating with the francophone division and support French education.
Insurance Increase
Paula Elock, Secretary-Treasurer, reported that the division had received a significant increase in insurance premiums. This year's invoice was $1.5 million more than 2018-2019. This includes a 274% increase in property insurance premiums.
The Board is currently part of the Alberta School Boards' Insurance Exchange (ASBIE). The Board discussed the possibility of discontinuing its membership in ASBIE and seeking insurance elsewhere. Notice would have to be given by January 1.
The Board will also be continuing its advocacy efforts with other boards in the province, including asking Alberta Education for assistance.
The increase in insurance premiums will result in changes being made to the division's budget for 2019-2020. The Board will review the amended budget at its meeting on Dec. 13.
Political Advocacy Committee
The Board's Political Advocacy Committee has selected three areas to focus on: advocacy to address increased insurance costs; advocacy to address the division's mental health goals; and continued advocacy to address infrastructure projects in the division. 
Policy Committee
Lorne Kaban, Chair of the Board's Policy Committee, reported that the committee had reviewed the feedback received from stakeholders and presented an updated policy for the Board to review.
The Board approved amended policy. The new policy has been posted on the NLPS website:
Policy 29 - Health and Wellness of Students and Staff
Posted on