Under the Northern Lights - November 12, 2020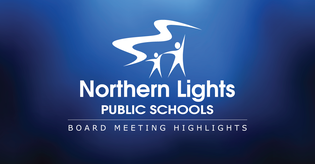 Good News Items
Trustees congratulated staff throughout the division who have received long service recognition this year. The trustees have been delivering certificates to schools and thanking staff for their service and it has been well received by staff.
Facilities Update
Leah Rout, Director of Facilities, provided the Board with an update on facilities throughout the division, including work done over the summer months at 14 schools, some of which was unanticipated.
Summer work included stucco replacement and brick repair at Ardmore School; heat exchanger replacement at Aurora Middle School; new windows and stucco at Bonnyville Outreach; new main office and staff room at Cold Lake Middle School; new flooring at Duclos School; new front facade at Ecole Plamondon; interior painting at Glendon School; home ec and kitchen renovations at J.A. Williams High School; boiler and controls replacement at Kikino School; and conversion of a computer lab to a classroom at North Star Elementary.
Work continues on the modernization of Bonnyville Centralized High School. The major demolition is complete, new gym walls and the connection and common area steel has been erected and the roof replacement and install is underway. Work has begun on the interior classroom area.
Projects are planned at 10 schools in summer 2021, including converting two schools to LED lighting, flooring replacement, modernizing some home ec rooms, envelope repairs, and replacing carpet with no wax flooring. Facilities staff will also be working on implementing insurance requirements including installing or replacing cameras in all schools, and installing water flow valves in all schools.
Student Achievement Report
Jimmi Lou Irvine, Associate Superintendent - Teaching and Learning, noted this year's Student Achievement Report was challenging because Provincial Achievement Tests and Provincial Diploma Exams were cancelled last year. The division normally uses three-year rolling averages to determine if there has been improvement, but that is not possible with the lack of data for 2020.
Due to software changes, the division has modified report cards in for grades 1-4 students. Feedback received during the consultation on middle school report cards last year was incorporated into the changes that were made. 
Scholarship Report
Jimmi Lou Irvine, Associate Superintendent - Teaching and Learning, reported that while the total value of scholarships received by NLPS students had increased this year, the number of students that received scholarships had decreased. 
Many scholarships are provided by local businesses, community organizations and individuals and the division is grateful for their support and commitment to supporting students who are pursuing post-secondary studies.
Cold Lake Configuration Committee Meeting Update
Paula Elock, Secretary-Treasurer, updated the Board on consultations that had been held with staff and parents over the last week about configuring schools in Cold Lake. The staff consultation was held on a Tuesday afternoon and 125 staff attended the session.  Two parent sessions were held with a total of 80 participants.
Three options for configuration were presented: a streamlined option, high school option, and multi-configuration options. Comments and feedback were collected at all three sessions as well as emails from participants afterwards. A video and PDF of the presentation is being shared with parents who were unable to participate and they will have an opportunity to provide feedback as well.
The next step will be for the Cold Lake Configuration Committee to review the feedback that was collected and determine whether or not further consultation needs to take place or if it is ready to bring the results to the Board.
Administrative Procedures
As part of the division's ongoing review of its administrative procedures, the Board reviewed draft changes to two AP's that are being sent out to stakeholders for feedback. Administrative Procedure 240 - Student Assessment and Reporting will be shared with all stakeholders to submit feedback up until December 21. Administrative Procedure 55 - Division-Owned Vehicles will be shared with staff with a deadline of December 16 for them to provide feedback.
Posted on