Under the Northern Lights - March 24, 2021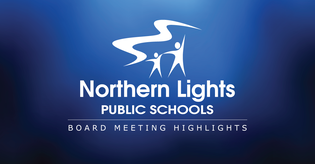 Good News Items
Dallin Schmidt, Communications Assistant, shared Good News Items from schools through the division with the Board. The full presentation is available on our website.
VIEW: March 24 Good News Items


Board Chair Arlene Hrynyk commended NLPS students for their creativity and ingenuity in creating traps for leprechauns as part of St. Patrick's Day activities. Many schools shared photos and videos on social media of student attempts to catch a leprechaun. 

Update from 4 Wing
Colonel David Moar, Wing Commander, 4 Wing Cold Lake, and Brian Hamilton from the Military Families Support Society (MFSS), provided the Board with update on what is happening on the base, particularly in relation to Art Smith Aviation Academy. 
Col. Moar explained that having a school on the base is one of his top family support priorities. 4 Wing and the Military Family Support Society are currently in the process of finalizing a five-year lease for the facility that currently houses Art Smith, with an option to extend for an additional five years. Col. Moar expressed his appreciation to school staff for the support provided to students and their families. He also noted that 4 Wing will be experiencing consistent growth over the next 5-10 years as it expands its capabilities in a number of areas. 
Board Chair Arlene Hrynyk reaffirmed the Board's commitment to offering programming  on the base and asked whether or not there were plans for new infrastructure that could house the education program in the future. Col. Moar said a multi-partner solution will be needed to construct a new facility and that is something they will be working toward.
Hrynyk expressed the Board's appreciation for the commitment MFSS Chair Brian Hamilton has shown to Art Smith and to the continuation of a quality alternative program at the school.  
Cold Lake Configuration
Paula Elock, Secretary-Treasurer, presented the Board with an overview of the work done by the Cold Lake Configuration Committee and presented a recommendation from the committee for the Board to consider.
The configuration process began in June 2019 when the division shared enrolment projections with the community that showed four schools in Cold Lake would be close to or over capacity by the start of the 2023-2024 school year (Cold Lake Elementary, Nelson Heights, Cold Lake High and Art Smith Aviation Academy). In November 2019 a committee made up of parents from each school, as well as school administrators and division representatives was created to analyze the situation and develop potential solutions for the Board to consider. 
The committee initially developed three potential scenarios for configuration and was prepared to present them to the community when COVID-19 hit in March 2020. The committee reconvened in October 2020, reviewed the scenarios again and developed an community engagement process. In November 2020, online engagement sessions were held with staff and parents. The results showed almost equal support for the streamlined and multi-configuration options that were presented. The committee decided to eliminate the least supported option (two high schools) and go back out to the community for more feedback.
In February 2021, the committee launched an online engagement on Engage NLPS that included discussion forums, an opportunity for the public to submit questions, documents for the public to review, and a survey. Over 1,600 visited the engagement on the site. Once again, the survey results were close. After analyzing all of the results and information that was collected the committee unanimously decided to recommend that the Board implement the multi-configuration model for schools in Cold Lake.
Under the multi-configuration model, Art Smith Aviation Academy would retain its existing configuration, Cold Lake Elementary would become a K-3 school, Cold Lake High School would become a 10-12 school, Cold Lake Middle School would become a 7-9 school, Nelson Heights would become a 4-6 school, and North Star Elementary would become a K-6 school. 
The Board approved the recommendation from the committee. Board Chair Arlene Hrynyk thanked all of the committee members for their work, as well as everyone who participated in the engagement opportunities that were provided. 
Elock said next steps will include continuous monitoring of enrolment to watch for pressure points that may need to be addressed, communicating the engagement results and board decision to the public, and developing short- and long-term implementation plans. By June, a plan will be in place that includes what changes, if any, will be put in place for September. The division will also be seeking input from parents at some schools about what timing will work best for making some of the transitions that need to be made between now and the start of the 2023-2024 school year when configuration changes will be fully implemented. The goal is to make the changes over the next three years in a way that minimizes disruption to students and staff and avoids students moving multiple times between schools.  
Elock's full presentation to the Board, which includes survey results, will be available on the NLPS website and Engage NLPS soon. Configuration updates will continue to be shared directly with parents as they become available and will also be posted on the Cold Lake Configuration page on the NLPS website.
Transportation Update
Matt Richter, Director of Transportation, provided the Board with an update on student transportation in the division. He noted that COVID-19 has had a big impact on operations, both in terms of the work drivers are required to do and causing driver shortages and route disruptions. 
Bus operations also continue to be negatively impacted by driver training requirements, making it difficult to recruit and retain drivers. Richter said the division has been training drivers through its driving school but there has been lots of attrition, with no interest in some areas. Increased insurance requirements and subsequent fee increases are also impacting contractors.
First Nations, Metis and Inuit Report
Jimmi Lou Irvine, Associate Superintendent - Student Services and Indigenous Relations, provided the Board with a report on initiatives underway in relation to First Nations, Metis and Inuit students in the division. 
For the 2020-2021 school year, there are a total of 1,773 students in the division who have self-identified as either First Nations, Metis or Inuit. That is just slightly less than 30% of the total student population.
Teachers throughout the division continue to build on their foundational knowledge about First Nations, Metis and Inuit as included in the Teaching Quality Standard (TQS). This has resulted in a more intentional approach to teacher learning. One opportunity that was provided to all NLPS staff earlier this year was taking part in a Cree language course presented in partnership with Portage College. As a result, morning announcements at some schools now include Indigenous language greetings and some school administrative assistants are taking courses so they can learn to greet and interact with parents in languages other than English. 
COVID Update
Bill Driedger, Associate Superintendent - Teaching Quality and Professional Services, provided the Board with an update on COVID-19 in the division. After a short period of time with no active cases in the division, cases have recently been reported at two of the division's high schools. One school currently has three cases, and all of those cases are a variant of concern. 
Driedger noted that one challenge has been changes to close contact definitions that have been made by Alberta Health Services. This requires careful examination of current requirements when there is a case as well as communication with AHS to ensure the division is in compliance and that families receive the appropriate direction about when and how long they need to quarantine.
He also noted that with the variant cases, the letters that AHS sends to be forwarded to parents have not included information about the variant. However, the division's goal has been to be absolutely transparent about COVID-19 cases with families and staff, and so the division has been sharing that information not only with close contacts, but also with all parents at the school as well.  
Capital Plan
Paula Elock, Secretary-Treasurer, presented the Board with an updated 2021-2024 Capital Plan for approval.
Updates were made to the previous plan to reflect work being done with a consultant and the region's two other school divisions on a solution in Lac La Biche that would address the Board's top capital priority - Vera M. Welsh Elementary School in Lac La Biche.
The Board's second priority is a modernization of Ecole Plamondon. Minor updates were made to reflect work done by the division's facilities team over the past year. The third priority in the plan continues to be a new school on Buffalo Lake Metis Settlement.
The fourth priority on the plan is a modernization of North Star Elementary. This was updated to reflect the changes to configuration being made in the Cold Lake area, including changing the configuration of the school from K-3 to K-6.
The Board approved the capital plan and it will now be forward to Alberta Education for consideration. 
2021 Edwin Parr Nominee
Bill Driedger, Associate Superintendent- Teaching Quality and Professional Services, announced that the Edwin Parr selection committee had chosen Daniel Rogers from Cold Lake Middle School as the Board's nominee for this year's ASBA Edwin Parr Award. The award honours outstanding first year teachers throughout the province.
There were a total of three teachers who were nominated by their school administrators for NLPS to consider. All three were outstanding candidates and they will all be recognized for their accomplishments.
High School Graduations 2021
Superintendent Rick Cusson reported that plans are underway for the division's high schools to hold COVID-compliant graduation celebrations this year. Ceremonies will not look the same as they used to and may look different at each school, but they will be going ahead. Details on what ceremonies will look like will be shared by each school.
Cusson noted that COVID resulted in schools needing to do things a bit differently to recognize grads last year and many families responded positively so some of those activities would likely continue this year and perhaps even after COVID restrictions are lifted.
Bold Center 10-Year Anniversary
Board Chair Arlene Hrynyk congratulated the Bold Center on its 10-year anniversary. NLPS continues to be a partner in that project with Lac La Biche County. 
First Nations, Metis and Inuit Committee Report
Committee Chair Lorne Kaban announced that the committee had selected Merle Patenaude, the graduation coach at J.A. Williams High School in Lac La Biche as the Board's nominee for the Public School Boards' Association of Alberta Promoting and Advancing the Calls to Action of the Truth and Reconciliation Commission of Canada in Relation to Education within Alberta Award.
Posted on