Under the Northern Lights - June 9, 2021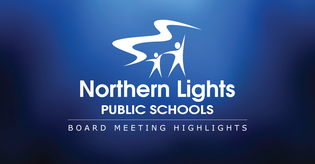 Observances
The Board held a moment of silence for the 215 lives lost at the Residential School in Kamloops, BC.


The Board acknowledged the Cold Lake High School student that was swept away in the Beaver River on June 6, 2021. Their thoughts are with the family at this time.


Good News Items
Trustee Debra Lozinski commended Kikino School for the ceremony the school held in honour of the 215 children found in unmarked graves at the Kamloops Residential School. The ceremony included songs, drumming and attaching 215 ribbons to the fence at the school.


Trustee Karen Packard congratulated Board Chair Arlene Hrynyk for receiving the Dick Baker Legacy Award from the Public Schools Boards' Association of Alberta. Hrynyk was recognized for modelling the values of integrity, compassion, respect, mentorship, and leadership, throughout her time as a public school trustee.


Dallin Schmidt, Communications Assistant, presented Good News from schools throughout the division, highlighting many activities, initiatives and accomplishments from students and staff.
Superintendent and Board Evaluations
The Board approved the Superintendent Evaluation and Board Evaluation reports.
Policy Updates
The Board approved the addition of two appendices for Board Policy 2 - Role of the Board: Appendix A - Facilitated Board Self-Evaluation Process and Appendix B - Board Annual Work Plan.
It also approved the the addition of two appendices for Board Policy 12 - Role of the Superintendent: Appendix A - Superintendent Evaluation Process, Criteria and Timelines, and Appendix B - Superintendent Performance Assessment Guide.
COVID Update
Bill Driedger, Associate Superintendent, reported that several schools had their outbreak status removed over the last week and only one school currently was under an alert (one case) since in-person classes resumed at the end of May. Driedger also shared that Alberta Education requested that the division share a letter from Chief Medical Officer of Health Dr. Deena Hinshaw about vaccinations with all parents and guardians.
High School Graduations
Superintendent Rick Cusson reported that some schools may be able to have in-person ceremonies for graduation due to the province's re-opening plan, which permits both indoor and outdoor events with some restrictions. Schools are currently working with parents to adjust their plans to provide the most robust celebrations possible.
Posted on