Under the Northern Lights - June 26, 2019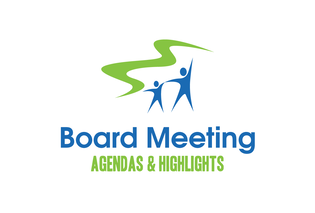 Good News Items
Board Chair Arlene Hrynyk congratulated École Plamondon School on its recent graduation ceremony. She noted that White Russian students accounted for half of the graduating class this year. She also congratulated École Plamondon School on a fun and engaging awards night that truly celebrated every student at the school.


Vice-Chair Michael Topylki congratulated Bonnyville Centralized High School on its recent graduation ceremony. He noted this is the last time students will be crossing that stage at a graduation ceremony due to the modernization project starting later this year. Trustee Lorne Kaban also attended and said it was nice to see student leaders help with the organizing and coordinating.


Trustee Garry Kissel congratulated Bonnyville Outreach School and Glendon School on their recent graduation ceremonies. Trustee Kissel also congratulated Glendon School on the start of construction of their Green and GOLD project.


Trustee Karen Packard congratulated Cold Lake Outreach School on its recent graduation ceremony. She said there were a lot of tears, but it was also a lot of fun.


Associate Superintendent Jimmi Lou Irvine announced that Janice Fulawka, NLPS Director of Curriculum and Instruction, has been selected to receive the Max Kryzanowski Award from the Alberta Teachers' Association's Council for Inclusive Education in October. The award "recognizes long-term service, achievement and accomplishment" in inclusive education.
Student Voice Presentation
Heather Stromquist, Director of Community Partnerships and Engagement, presented the Board with the input collected from students to answer the third question given to the Student Voice committee - "Thinking of life after high school, what can schools do or teach to help prepare students for the future?"
The Student Voice Committee facilitated this year's Student Voice conference, which included students from grades 5-12 from throughout Northern Lights Public Schools. The Student Voice committee members provided all of the students with an overview of how they collected input and responded to the first two questions given to them by the Board and then asked the students in attendance to help answer question three.
Stromquist said some of the suggestions for how schools can better prepare students for the future included: financial literacy, mental health, teaching youth to stand up for their opinions, better sexual education, and teaching social skills. Students said there are several skills and supports they would like to help them be successful after graduation. This includes earlier discussions about planning for the future so they know what courses to take in high school and don't have to go to summer school or upgrade after Grade 12; financial skills like how to budget and do taxes; what to do when they are home alone (what do I do when...?); stress management and better emotional supports during high stress times of the school year; more career supports; and extracurricular opportunities that mirror future career options.
Stromquist also shared videos with the Board of the Student Voice committee members reflecting on their experiences and providing recommendations for the future. 
Board Chair Arlene Hrynyk said she continues to be amazed at the confidence the students possess to present their ideas to the Board and their fellow students. She congratulated the students and Stromquist on the work done this year and said the Board looks forward to see how Student Voice grows in the future.
Facilities Update
Leah Rout, Director of Facilities, shared a list of projects that the division's facilities team will be working on while staff and students are enjoying their summer holidays. This includes fencing at Cold Lake Elementary, H.E. Bourgoin Middle School, and Caslan School, classroom modernization at Cold Lake Middle School, and a renovation to the main office at Cold Lake High School including the installation of doors where it connects to the Energy Centre. 
Maintenance crews will also be completing a variety of other projects at schools throughout the division including LED lighting, roofing, asphalt, flooring, painting, lockdown updates, tree removal, exterior renovations, carpet removal, concrete stair repairs, humidifier/boiler updates and replacements, learning commons renovations, and sidewalk work.
In addition, staff will also be emptying Bonnyville Centralized High School and relocating furniture and resources to the Bonnyville and District Centennial Centre in preparation for the school's modernization project, which is expected to start in the fall. 
Rout also discussed the division's new Go Green Program which will see custodians throughout the division using only green cleaning products in schools. Custodians at H.E. Bourgoin Middle School in Bonnyville and Glendon School are already using only green products and have been testing products this year. 
2019-2020 Preliminary Budget
Secretary-Treasurer Paula Elock presented the Board with the division's 2019-2020 Preliminary Budget for approval and submission to Alberta Education. She noted that several assumptions have been made in developing the budget, as a provincial budget is not expected until October. The division's fall budget update will include any revisions that are necessary once the provincial budget is released and student enrolment numbers are finalized. She also noted that the division is aiming for a balanced budget for 2019-2020 and maintaining reserves at 2.5%.
The budget is based on projected enrolments of 5,983 students, down just slightly from the actual 2018-2019 enrolment numbers. Assumptions made include: the continuation of the provincial nutrition grant which funds lunch programs at Vera M. Welsh Elementary in Lac La Biche and North Star Elementary in Cold Lake; the continuation of the Classroom Improvement Fund, which assists schools with unique situations, complex needs and language learning difficulties; funding to cover costs associated with the provincially negotiated agreement with teachers; and no change to the base funding for students. If any of those assumptions prove to be incorrect, Elock noted, there will need to be changes made to the budget. This could affect things such as class sizes and fees for transportation.
Cold Lake Reconfiguration Meeting
Secretary-Treasurer Paula Elock shared information with the Board about the recent staff and parent reconfiguration meetings held in Cold Lake. Approximately 50 parents were in attendance at the parent meeting. The focus of the meeting was to explain why the division is looking at reconfiguration and the process that will be used to engage parents over the next year to two years to collect feedback and look for a solution. 
Elock said the parents were eager to engage, asking lots of questions and offering suggestions. The next step, which will happen in the fall, will be to form a committee consisting of three representatives from each school (one from administration, one staff and one parent), and division office staff. That committee will determine how to gather feedback from stakeholders and what questions need to be asked. 
Division staff are currently working on creating a summary of Elock's presentation so it can be shared with parents who were unable to attend the session.
Kikino Council Update
Trustees Arlene Hrynyk, Maurice Richard and Debra Lozinski, along with Associate Superintendent Jimmi Lou Irvine, reported on the recent opportunity they had to connect with the Kikino Métis Settlement Council. They said it is clear the council is highly invested in their students and they look forward to continuing to build a positive relationship between the Board and the Council.
Grade 3 PAT's
The Board discussed the announcement by the provincial government that Provincial Achievement Tests (PAT's) will be reinstated at the Grade 3 level. The assessments were removed several years ago and replaced by SLA's (Student Learning Assessments), which were optional for school jurisdictions. SLA's will become mandatory in 2020-2021 until the PAT's are reinstated. 
Posted on