Under the Northern Lights - June 23, 2021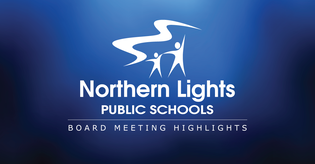 Good News Items
Trustees were honoured to present milestone recognition to staff who have served with the division for 5, 10, 15, 20, 25, 30, 35 and 40 years with the division. Trustees visited schools over the last two weeks presenting staff with certificates and gifts.


Trustee Garry Kissel congratulated this year's graduates from Glendon School. The school's ceremony was held on Saturday and included an opportunity for family, friends and the community to drive by and congratulate students outside of the school.


Superintendent Rick Cusson commended staff, students and parents for making a difficult year run as smoothly as it could. Through multiple interruptions and pivot points, NLPS was able to continue providing a high quality education to students. He also thanked staff for working hard to try and provide a sense of normalcy to students throughout the year.


Board Chair Arlene Hrynyk complimented schools on the work they did to celebrate Indigenous Peoples' Day and provide opportunities for students and staff to learn about Indigenous history and culture.


Communications Officer Nicole Garner presented the final Good News presentation of the school year, featuring highlights from schools throughout the division. 
Bus Contractor Rate Schedule
The board approved a 3% increase for bus contractors for 2021-2022.
Facilities Update
Director of Facilities Leah Rout provided the Board with an overview of the work being done at schools throughout the division over the summer months. This includes LED lighting upgrades, flooring, roof repairs, creating gender neutral washrooms, and various other interior and exterior upgrades and repairs.
The facilities team will also be moving furniture and resources from the Centennial Centre to the newly modernized Bonnyville Centralized High School in preparation for students returning to the school in the fall. 
Work will also continue at the Glendon track, including topsoil, sod, and the installation of discus and shotput pads.
To comply with insurance requirements, flow metres are being installed on water lines and cameras are being installed and upgraded at schools.
Annual Insurance Summary
Secretary-Treasurer Paula Elock provided details on what changes have occurred over the past year with respect to insurance. Due to skyrocketing insurance rates, the Board had decided earlier this year to withdraw from the Alberta School Boards' Insurance Exchange and join the Alberta Risk Managed Insurance Consortium.
Elock explained members of ARMIC were working to mitigate some of the factors that were causing rate to increase for school boards and potentially attract more insurance providers to offer insurance to boards. For NLPS, this included installing flow meters and cameras at all schools. While this means some additional expenditures for the division, Elock said there should be a long-term benefit.
Next year, Elock said the division will be providing more training to division and school staff and make them more aware of things that increase risk and could have insurance implications.
Elections Update
The Board passed several resolutions related to the upcoming school board elections in October. This included appointing substitute returning officers to ensure that there are staff available to accept nominations throughout the nomination period. Nominations will be accepted Monday through Thursday between 10 a.m. and noon and 2 to 4 p.m. and Fridays from 10 a.m. to noon at the NLPS Division Office in Bonnyville. The nomination period runs from January 1, 2021 until noon on Monday, September 20, 2021 (nomination day). 
NLPS will align their advanced vote with the advanced votes taking place in the municipal council elections. 
BCHS Grand Opening
The Board set Friday, October 1 as the date for the Grand Opening of the modernized Bonnyville Centralized High School. This date will be submitted to Alberta Education so the process of planning for the event can proceed.
Administrative Procedures
The Board reviewed two administrative procedures that have been updated and finalized. Administrative Procedure 132 - School Day had been shared with stakeholders for feedback earlier this year. One change was made as a result of that feedback to provide clarity to a section of the procedure.
Administrative Procedure 515 - Purchasing and Procurement was updated with several changes after having been reviewed by trustees and by administrators in the division.
The updated AP's will be posted on the division's website shortly.
Posted on