Under the Northern Lights - January 16, 2019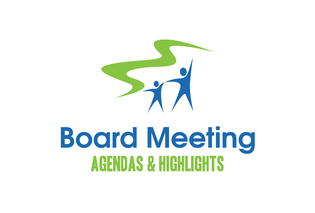 The January 16 meeting of the NLPS Board of Trustees took place at Cold Lake Middle School.
Good News Items
Trustees commended staff throughout the division on the many hours of work dedicated to creating memorable Christmas concerts for students and their families. 


Trustees also thanked staff for the warm welcomes they received when they delivered Christmas gift baskets prior to the holiday break.


Trustees congratulated Mia Badger from Bonnyville Outreach School, Ryder Clowater from Wandering River School, and Isaac Carhart from Cold Lake Outreach School on being selected as the winners of this year's Christmas Card Artwork contest. They also congratulated Shaye Guinand from Aurora Middle School and Vivian Sheen from Cold Lake Elementary School on receiving honourable mentions. Trustees enjoyed presenting the students with their prizes at their schools prior to the holiday break.
Transportation Report
Matt Richter, Director of Transportation, presented the Board with the annual Transportation Report. Richter noted that over the last several years, the number of unfunded students has increased to 24%. These are students who live within 2.4 kilometres of their designated school. Alberta Education does not provide funding for busing for those students. Richter said while overall ridership has increased 1.5%, overall funding has decreased by $420,000.
New provincial requirements come into effect on March 1 that will require all Class 1 and Class 2 drivers to take Mandatory Entry Level Training (MELT). This includes up to 85 hours of lecture and driving time for Class 2 license candidates. As of March 1, drivers will also be required to have their S endorsement prior to driving a school bus. Currently drivers have up to one year after starting employment to get the S endorsement. Richter noted that the new requirements will make it difficult to attract new drivers, particularly spares.
The Board was pleased to learn that the new requirements would not impact volunteer and teacher drivers as much as initially believed. When the new rules were announced, it appeared that all teacher and volunteer drivers would need to take the courses, a requirement that would affect over 1,600 teachers and volunteers province wide who drive students for things like sports competitions. Richter noted that further clarification has been provided and the training will only be required for teachers and volunteers driving larger buses. 
As well, the Board was pleased to learn that the division will have the option of having its own trainers and examiners to do the training with drivers. This is expected to reduce the cost of the training significantly. 
Draft 2020-2021 School Calendar
Bill Driedger, Associate Superintendent - System Improvement, presented the Board with a draft of the 2020-2021 school calendar. He noted that Labour Day falls on September 7, 2020, which meant it wasn't possible to start school after Labour Day and get in the required number of days in the first semester. Instead, staff will return to school on August 27 and classes for students will start September 1.
The Christmas holiday break will be two weeks, with students returning to school on January 4. Spring Break will start on Good Friday (April 2), with students returning to school on April 12.
The Board approved the calendar in principle and will send it out to stakeholders next fall for feedback before granting final approval. 
Draft 2020-2021 School Calendar
Nelson Heights Learning Commons Presentation
Students Josef, Corrie, Nico and Peyton impressed the Board with their presentation on the many programs available in the school's new Learning Commons and the positive impact it has made on school culture.
The library was transformed into a Learning Commons by moving the books to the perimeter of the space and creating a variety of flexible seating arrangements. Students can browse the books, work on large projects or use Chromebooks.
The new Zen Den (mini amphitheatre) provides space for small groups to work, and for students to chill out or have a quiet place to read. 
The Learning Commons is easily converted to a theatre when authors visit or students watch a movie as part of a novel study. 
During Literacy Week, students share lunch and a good book with their families, take part in beach reading day, and the school's lockers are transformed into book spines.
The school's Critter Club partners with the Lakeland Humane Society and donates hundreds of dollars in cash plus supplies to help the organization. Last year, the group was honoured with a Leaders of Tomorrow Award from MFRC.
This year, students are enjoying the new astronomy club as well as Sci Read which allows them to spend one block a week learning about science through books.
The transformation of the library to a Learning Commons and the changes made to programming have resulted in a 28% increase in circulation.
Principal Jason Whaley said the Learning Commons has become a hub of activity at the school with students from different grade levels working and participating in different clubs and activities together. Librarian Shaula Corr noted that during break times at the school there could be up to 70 kids from all grade levels in the library interacting with each other.
Posted on