Under the Northern Lights - February 12, 2019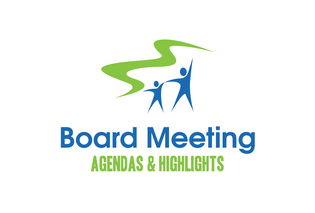 Good News Items
Trustee Garry Kissel complimented Glendon School on hosting a successful Literacy Night. The event had a pirate theme and featured dinner, fun activities, and a book exchange.


Board Chair Arlene Hrynyk thanked all of the bus drivers, bus contractors and Transportation Department staff for working collaboratively to ensure student safety during the recent extreme cold weather that affected our communities.


Focus on Student Success Presentation - Elder in Residence Program
Students and staff from Aurora Middle School shared the many wonderful benefits of the school's Elder in Residence program. Dianne Ludwig is the school's Kokum (the Cree word for grandmother) and supports students in a variety of ways including sharing Indigenous culture with students, teaching about Indigenous history and legends, working with local agencies to provide opportunities and services for students, and providing emotional and spiritual support to students. 
The students gave many examples of how Kokum has positively impacted their lives including greeting them when they arrive at school, rocking them to sleep when they've been awake all night, setting up a dance group, teaching them how to make dreamcatchers, mocassins and mitts, beading, and trapping,  and being there to talk to when they are upset. The students and parents also appreciate that she can speak to them in Cree.
As one student summed things up: "I think there should be a Kokum in every school so students can go to her to talk so they can feel better about themselves."
Board Meeting Dates Changed
The Board changed two upcoming Board meeting dates. The meeting originally scheduled for March 20th has been moved to March 26th, and the meeting originally scheduled for May 8th has been moved to May 15th.
Regional School Council Meetings
The Board discussed the meetings it held in Bonnyville, Cold Lake and Lac La Biche recently with school council representatives. Board Chair Arlene Hrynyk noted she had heard very positive comments from those in attendance and that attendance at the meetings were higher compared to when the Board hosted one central meeting for all school councils.
Trustees commented that there was a lot of good discussion during the formal part of the meeting as well as around the tables and after the meeting and it was a good way to learn about what school councils are doing and what their concerns are.
The Board will be sending out a survey to get feedback from school council members, including what time of year would work best for future meetings.
Policy 27 - Recognition and Celebration
Due to feedback received from staff, the Board approved amendments to Policy 27 that more closely align it with past practice in recognizing the years of service staff have accrued. The amended policy can be viewed online: Policy 27 - Recognition and Celebration.
Posted on