Under the Northern Lights - December 14, 2018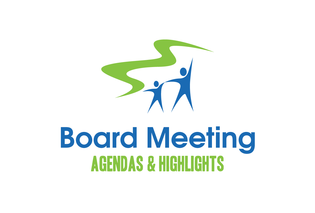 Good News Items
Vice-Chair Michael Topylki congratulated Bonnyville Centralized High School students and staff on the success of this year's Santa's Elves campaign. Many community members gathered on December 12 to help wrap the gifts that were collected. In total, over 3,000 gifts were wrapped that will be given to 500 kids. He also thanked everyone in the community who donated to this year's campaign and encouraged others to donate as well.


Trustees Garry Kissel, Lorne Kaban and Michael Topylki delivered Christmas gift baskets to schools in the Bonnyville region. They enjoyed visiting all of the schools and meeting staff.


Trustee Ron Young commended Cold Lake Middle School on two amazing events held at the school over the past few weeks - a performance with Trickster Theatre, and the school's Christmas concert.
 
Trustee Karen Packard thanked all of the staff in the division who are involved in organizing school Christmas concerts for their hard work. She attended concerts at North Star Elementary and Cold Lake Elementary.


Trustee Debra Lozinski congratulated students and staff at J.A. Williams High School in Lac La Biche on their production of Alice in Wonderland.


Trustee Lozinski also congratulated Kikino School on hosting a high energy, fun Christmas concert.


Board Chair Arlene Hrynyk thanked Wandering River School for the warm welcome she received when she visited earlier this month. 


The Board complimented the ATA Local on hosting a wonderful evening event that included the induction of new members and celebrated retirees.
Student representatives from each NLPS high school presented the feedback they had collected from students in their schools over the last couple of weeks about the challenges and barriers that affect student success.
The students created and distributed an online survey and received a total of 431 responses from students at Bonnyville Centralized High School, Cold Lake High School, J.A. Williams High School in Lac La Biche, Ecole Plamondon School, Glendon School and the Northern Lights Outreach schools in Bonnyville, Cold Lake, Fishing Lake, Lac La Biche, Kikino and Buffalo Lake.
The survey indicated that the biggest factors that impact their ability to be successful are: mental health, anxiety, stress and pressure; fear of the future and high expectations; balancing school with work and/or family responsibilities; and lack of motivation. Students suggested that more rest periods or breaks; more opportunities to complete homework or assignments at school; quiet spaces to study or take a break; and opportunities to participate in activities that help reduce stress or anxiety would help them be more successful.
The Student Voice committee noted that many students struggle to balance homework and assignments with other responsibilities including family obligations, work, volunteering in their communities and extracurricular activities. It can also be challenging to complete homework without access to technology or the Internet at home, or without someone to ask for help if you need it.
Board Chair Arlene Hrynyk commended the students on their presentation and the work they did to collect input from the students in their schools. The Board asked the student representatives to collect feedback on a new question: What are schools doing well to make sure we have a warm, caring, welcoming place? What can we do better? The students will start collecting feedback when school resumes after winter break.

Facilities Report
Director of Facilities Leah Rout presented the Board with an annual report on what's happening with facilities throughout the school division. The facilities department has completed 1,887 work orders since May 1 in addition to preventative maintenance, projects, and improvement initiatives.
Maintenance items planned for this year include boiler replacement at Wandering River School, creating accessible main entrances at Ardmore and Iron River schools, reroofing at Ecole Plamonon, and wall-to-wall carpet removal at many schools. The facilities department is currently working on projects at Aurora Middle school, Cold Lake on new storage cupboards at Aurora Middle School, security system upgrade at Cold Lake High School, reset room construction at Duclos School, tree removal in Glendon, north parking lot and entrance at H.E. Bourgoin School, drywall at Nelson Heights School, and door hardware at Ecole Plamondon.
Rout shared information on several other projects that are under consideration for this year and over the next five years, depending on finances. This includes stucco repair and painting at several locations, fencing, flooring, LED light upgrades, and many other upgrades.
Inclusive Education Summary
Jimmi Lou Irvine, Associate Superintendent - Teaching and Learning, presented the Board with the annual Inclusive Education Summary. She noted that all NLPS staff work together to serve a multitude of student needs throughout the division.
NLPS currently has 254 students identified with severe disabilities and 524 identified with mild/moderate disabilities. Over 1,300 students (22% of students) in NLPS have an Individualized Program Plan in place that details modifications to curriculum content and accommodations provided to students.
The division's support team includes the Director of Learning - Inclusive Education and Community Support, speech-language pathologists, occupational therapists, an early learning lead teacher, mental health supports and a project coordinator, as well as student advocacy counsellors and student services team coordinators at each school site. Students in the division receive additional supports through Regional Collaborative Service Delivery (RCSD).
Draft Calendar
Bill Driedger, Associate Superintendent - System Improvement, presented the Board with a draft of the 2019-2020 school calendar. The calendar was developed in consultation with the division's calendar committee which includes two principals and two ATA Local representatives.
The proposed 2019-2010 calendar has 190 operational days, which includes 180 instructional days (90 in each semester. 
Driedger said the committee took into consideration the feedback received from stakeholders last year during the extensive calendar consultation that was done, as well as all of the factors that impact the calendar such as the provincial diploma exam and achievement test schedule, the requirement to have a minimum of 950 hours of instructional time at the elementary school level and 1000 hours in high school, and the cap on instructional time and assignable time for teachers.
The 2019-2020 proprosed calendar is similar to 2018-2019 with school starting after Labour Day, a four-day weekend at Thanksgiving, a two-week Christmas break, and a spring break that coincides with Easter. 
The Board approved the calendar in principle and it will now be circulated to stakeholders for feedback.
Posted on