Under the Northern Lights - August 25, 2020 - Regular Board Meeting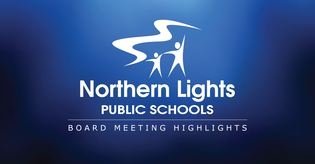 Good News Items
Communications Officer Nicole Garner announced the winner of the division's Orange Shirt Day T-Shirt Design Contest. Congratulations to Kinsley Packard from Nelson Heights Middle School! Kinsley's design will be featured on this year's NLPS Orange Shirt Day T-Shirts.
Re-Entry Plan Update
Superintendent Rick Cusson updated the Board on some of the actions that had been taken since the Board approved the division's School Re-Entry Plan. 
On August 20 and 21 school administrators spent two days reviewing the Re-Entry Plan and discussing how to implement the plan at their schools. On August 27, administrators will be providing a COVID course for staff that discusses precautions, isolations requirements, and employee roles and responsibilities. They will then begin the process of reviewing re-entry plans with teachers and support staff and finalizing what implementation will look like at their sites.
Bill Driedger, Associate Superintendent - System Improvement, presented the Board with an updated version of the School Re-Entry Plan. Two sections were updated to reflect changes made to the province's school re-entry plan, which was released on Thursday, August 20. Those updates provided more information on mask use and reporting absences to Alberta Health Services. In addition, a checklist was added to the end of the document that details the actions division staff and schools will be taking to implement the re-entry plan. Two other documents were also released on August 20
Jimmi Lou Irvine, Associate Superintendent - Teaching and Learning, provided an update on the Learning Pathways options that are available to parents. She noted that there are some misconceptions about what home education entails and there was a need to clarify that it is not similar to the learning opportunities that were put in place for students at the end of last year. The division's Learning Pathways Guide provide parents with information about three options for the 2020-2021 school year: Learning Together on Location (in-person classes), Learning Together Anywhere (teacher-directed online programming), and Learning Independently (home education in partnership with an NLPS school). Irvine noted it was important that parents understood their roles in relation to the Learning Together Anywhere and Learning Independently options.
To date, 245 students in grades Kindergarten to 9 had expressed interest in the division's Learning Together Anywhere program. The program will be overseen by the administrators of Art Smith Aviation Academy - Principal Chris Vining and Assistant Principal Andrea Farrell. They will work with the teachers assigned to the program, and with students and parents to ensure student supports are in place. They will also work with the schools that LTA students would normally attend to help with transitioning students to LTA and assist students in switching back to in-person classes if they choose to do so at the end of a term. There will be three times during the year when students will be able to switch from LTA to in person classes. These will be in November, the end of January, and March.
High school students who wish to learn from home have been asked to contact their local NLPS Outreach school to discuss programming. 
The Board reaffirmed the division's plan to start school on September 1 and do a staggered entry for the first two days of school.
Meeting with MLA's
Board Chair Arlene Hrynyk reported that she and Vice-Chair Michael Topylki, along with NLPS administration, had the opportunity to meet with MLA's Dave Hanson and Laila Goodridge and share the division's re-entry plan, as well as information about several other areas of concern for the Board. The Board will continue to meet with its local MLA's throughout the year to keep them up-to-date on what is happening in the division.  
Transportation Task Force
Representatives from NLPS also had the opportunity to meet with the Chair of the Student Transportation Task Force and Director of Transportation for Alberta Education in August. Board Chair Arlene Hrynyk said the meeting went well, with NLPS providing information about the challenges it experiences and the division's willingness to work with neighbouring school divisions to provide transportation services, as well as suggesting possible solutions for the task force to consider. The task force will be submitting recommendations to the Minister of Education on October 8.

Policy Committee
The Board reviewed an update to Policy 4 - Trustee Code of Ethics which has been renamed Policy 4 - Trustee Code of Conduct. The revised policy was approved by the Board. Following approval of the policy, each trustee signed a new Code of Conduct.

The updated policy will be posted on the NLPS website shortly.
Posted on