Under the Northern Lights - August 25, 2020 - Organizational Meeting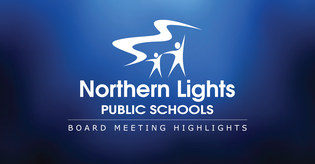 Election of Chair
Arlene Hrynyk was re-elected as Board Chair for the 2020-2021 school year.


Election of Vice-Chair
Michael Topylki was re-elected as Vice-Chair for the 2020-2021 school year.


Trustee Code of Ethics
As a new Code of Ethics was on the Regular Board Meeting agenda, this item was tabled.


Meeting Schedule
The Board reviewed the schedule that was approved earlier in the year, taking into the account the impact of COVID.
The Board agreed to continue with the hybrid model it has been using for meetings since COVID restrictions were put in place, with some participants meeting in person at either the Bonnyville or Lac La Biche offices, and others taking part online using Zoom.
An updated meeting schedule with times and locations will be posted on the NLPS website shortly.

Committees
The Board made some changes to its committee representation for the 2020-2021 school year. A full list of committees and membership is available in the Board section of the NLPS website.
Trustee Remuneration
No changes were made to trustee remuneration for the 2020-2021 school year.
Disclosure of Personal Interest
Trustees completed and signed Disclosure of Personal Interest forms.
Posted on