Under the Northern Lights - April 22, 2020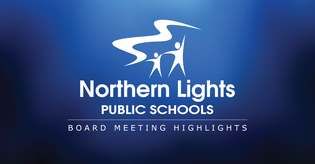 The Board of Trustees met via Zoom on Wednesday, April 22. Here are some highlights from the meeting:
Edwin Parr Nominee
Terry Moghrabi, Assoicate Superintendent - Human Resources, introduced the Board to its nominee for this year's Edwin Parr Award - Chris Cartwright from Bonnyville Centralized High School.
Cartwright was nominated due to the high level of engagement he has achieved in his classroom. Students and parents have been complimentary about the quality of his teaching and the connections he has forged with students both in the classroom and as the coach of the boys' basketball team.
Board Chair Arlene Hrynyk thanked Cartwright for the work he is going with students. Traditionally, Cartwright would have been recognized at the division's Staff Recognition Evening and at a banquet with other Zone 2/3 nominees. However, with the current restrictions on large gatherings, those events will not be taking place.
Good News Items
In honour of Administrative Professionals Day, Board Chair Arlene Hrynyk thanked all of the division's school and division-based administrative professionals for the contributions they make to the school division.


Board Chair Arlene Hrynyk also thanked all of the division's staff for the way they have dealt with the challenges presented due to classes being cancelled. "Our staff are doing incredible work for our kids and to ensure continuity of learning," she said.
 
Student Learning Update
Jimmi Lou Irvine, Associate Superintendent - Teaching and Learning, provided the Board with an overview of what is happening with student learning while classes are cancelled. She noted that the division's priority from the outset was to emphasize connecting with students and maintaining a focus on student wellness as well as learning. Schools are working with students and families so they are not overwhelmed with learning at home.
There have been many highlights over the last few weeks of ways that staff have modified how they engage students in learning from home. Staff are becoming more familiar with using technology to engage students, and have been finding new ways to engage students in learning with things they might have at home.
The division and schools are currently engaged in discussions about what assessment and grading looks like. Each student will receive a report card at the end of the school year and many teachers have questions about what that means and what it will look like. A document has been created for high school teachers to clarify what the expectations are for assessment. Meetings are being held later this week with elementary and middle schools to discuss grading and assessment. 
The division is also launching a series of professional development opportunities for staff. This will address some new things staff want to learn in order to better engage students in the current circumstances, as well as topics aligned with the division's priorities.
Mental health and inclusive education staff have created resources to share with teaching staff and parents. Some of these will be incorporated into the weekly lessons for students and others may be shared directly in messages in parents from the division.
Irvine said next steps include starting to set the stage for when students come back to school and preparing them for the next sequence of learning, whether that's moving up to the next grade, or moving on to the next level of math or language arts or social studies courses.
Food for Thought
Bill Driedger, Associate Superintendent - System Improvement, provided the Board with an update on how the division is using its School Nutrition Program funding to provide food to families in need.
The new Food for Thought program made its first round of deliveries to 350 students/families on Tuesday, with a few happening on Wednesday due to logistics. Schools identified and contacted families they felt might benefit, as well as informing all parents of what was happening and advising them to contact their child's school if they wanted to access the program. Each week, families will receive either a pre-cooked meal or the ingredients to prepare a meal as well as a selection of non-perishable food items. In future weeks other resources may be added to the food hampers.
High School Graduations
Superintendent Rick Cusson reported that in consultation with the division's high schools, Northern Lights had decided to postpone all high school graduation ceremonies until the fall. He said they will reassess the situation then and look at what opportunities may be available for celebrations.
High schools will also be looking at other ways to celebrate their graduates and recognize their accomplishments before the end of the school year. This could be some form of online or electronic recognition. 
Staff Wellness
Terry Moghrabi, Associate Superintendent - Human Resources, provided the Board with an annual report on Staff Wellness, including statistics from the division's benefits providers. The division has seen positive changes in measurements such as its WCB rates. There has also been increased usage of the Employee and Family Assistance Program, which, Moghrabi said, shows staff are accessing the resources available to them when they need it. 
Insurance Update
The Board has until June 1 to decide if it wants to remain a member of the Alberta School Boards' Insurance Exchange. Northern Lights previously served notice that it was considering leaving the exchange after insurance rates increased by as much as 270%. 
Secretary-Treasurer Paula Elock said the division had submitted applications to be part of three other groups as part of its examination of alternate options to access insurance for the division. She said the finance department would be bringing more information to the Board at its next meeting and a recommendation at the Board's meeting in late May.
Trustee Budget Changes
The Board made several changes to its budget following a review by a committee of trustees.
The professional development portion of the trustee budget will be adjusted to reflect a reduction in the number of professional opportunities trustees will be able to access on an annual basis.
The Board will be also be suspending awards for students who achieve blended marks of 80% or more in a Provincial Diploma Exam course or Math 31 for three years. It is also suspending the Board Supported Initiatives program, which has been undersubscribed for a number of years, for the same time period. Those programs will both be reviewed at the end of the three-year period.
2020-2021 Budget Update
Secretary-Treasurer Paula Elock reported that the division had received its revised funding profile from Alberta Education on Monday. Changes were made to the funding the school division would receive for the 2020-2021 school year based on discussions with Alberta Education in February. 
Elock explained the division will be receiving slightly more in its based grant and that has also affected the weighted moving average used to calculate other grants. There have been decreases in some grant areas however, and further clarification is being sought to understand why those changes occurred. 
Policy Updates
The Board approved amendments to four policies as put forward by the Policy Committee. Amendments were made to Policy 2- Role of the Board, Policy 3 - Role of the Trustee, Policy 5 - Role of the Board Chair, and Policy 6 - Role of the Vice-Chair.
Posted on