Under the Northern Lights - April 10, 2019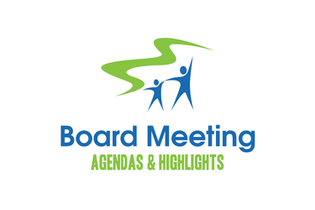 Good News Items
Board Chair Arlene Hrynyk congratulated Aurora Middle School student Faiza Chowdhury on winning this year's STEAM Challenge T-Shirt design contest. All students who attend the NLPS STEAM Challenge will receive a T-Shirt featuring Faiza's design. 


Board Chair Arlene Hrynyk also thanked the many partners who supported this year's STEAM Challenge: Britton's Your Independent Grocer, Canadian Natural, Cenovus Energy, Devon Canada, EDCON Power Tongs, Enbridge, Imperial, Bonnyville Nouvelle, boom 95.3, boom 103.5, Kool 101.3 and Thinkwerx.


Trustee Garry Kissel congratulated the Kindergarten students at Glendon School on being selected as winners in the division's Pink Shirt Day Video Challenge.


Jimmi Lou Irvine, Associate Superintendent - Teaching and Learning, shared that the division's administrators recently had the opportunity to tour Blue Quills with survivors of the residential school. She said it was very powerful to tour the school and have the survivors share their experiences and how it impacted their lives.


Trustee Lorne Kaban congratulated H.E. Bourgoin School and Duclos School on hosting successful Wellness Nights. Both events featured a variety of wellness themed activities for families and provided opportunities for families to connect with community organizations.


Superintendent Rick Cusson commended Heather Stromquist, Director of Community Partnerships and Engagement, on the fantastic work she did facilitating the division's Community Engagment sessions with stakeholders. He noted the process generated great feedback that will assist the board and division administration in making decisions.
Edwin Parr Nominee
Terry Moghrabi, Associate Superintendent - Human Resources, reported that the Board received three applications for the Edwin Parr Award this year. The candidates were Bryanna Belanger from Aurora Middle School, Avalon Verzuu from Ecole Plamondon School and Blake Mezzarobba from Kikino School.
Trustee Garry Kissel, who was on the Edwin Parr nomination committee, said all three candidates interviewed well. The committee selected Blake Mezzarobba from Kikino School to be the Board's nominee for the award.
"Blake has done a great job of integrating into the community," said Trustee Lorne Kaban. "He is actively involved and he's also participating in a lot of coaching and mentorship opportunities with staff in the division and his colleagues."
Mezzarobba's nomination will be submitted to Zone 2/3 of the Alberta School Boards' Association. Each school division in Alberta can nominate one teacher for the award. Zone 2/3 will select two winners to be honoured as provincial winners.


Focus on Student Success Presentation - Ardmore School
Four students from Ardmore School spoke to the Board about the school's successful 4-H program. The school has had a partnership with 4-H for 12 years and was the first 4-H school in Canada. Students start the program in Grade 4 and participate in the 4-H communication program as well as taking 4-H options.
Students Bella Cory and Brooklynn Graham did an entertaining presentation on creating a successful 4-H communications presentation for the Board. This was their winning communications project that earned them second place at regionals.
Keigan Ballard and Matteo Godbout told the trustees about the many options available to Ardmore students through the 4-H program. This includes Lego robotics, pottery, 3-D printing, Arts & Crafts, Outdoor Education, Healthy Living and Alternative Sports, cosmetology, French, woodcraft, and photography, to name just a few. They noted that volunteers are an important part of the program because they sometimes come in to share their knowledge and skills with students.
Ardmore Principal Ken Pshyk noted many of the school's alumni who have gone on to post-secondary have said the communication skills they learned participating in 4-H helped them as they progressed with their education and even in job interviews. 
He said volunteerism is another important component of the program. Students participate in activities with local seniors and work on projects to beautify the community.
Division Priorities
The Board spent time at its annual retreat reviewing all of the input and data collected during the Community Engagement meetings held throughout the division in February and March as well as the online survey distributed to parents.
Board Chair Arlene Hrynyk thanked everyone who was involved in the process and gathering information for the Board to examine. She noted the Board was pleased with the amount and quality of data available to help them determine what priorities the division should be focusing on.
Hrynyk said in deciding what priorities to focus on, the Board wanted to ensure the information they were using was authentic and they wanted to limit the number of priorities. After much deliberation, the Board decided to focus on two goals that will be included in the 2019-2022 Three-Year Education Plan.
Those goals are:
to improve the mental health and wellness of students
to improve the numeracy skills of students.
Bill Driedger, Associate Superintendent - System Improvement, noted the next step will be working on definitions so everyone has a common understanding of what the goals mean, as well as strategies that will be implemented to achieve those goals. He noted that a lot of the data collected from stakeholders will be incorporated into the strategies. Measurement tools will also be determined for each priority area.
In addition, the information collected in the Community Engagement process will also be shared with administrators in the division so they are aware of suggestions that were made and ideas that they may want to move forward with in their schools or communities.
Facilities Review
As a followup to discussions at their recent Board retreat, trustees made a motion to direct administration to proceed with subdividing the Grand Centre Middle School property in Cold Lake.
Superintendent Reappointment
The Board made a motion to reappoint Rick Cusson as Superintendent for five years pending ministerial approval. Board Chair Arlene Hrynyk said the Board was pleased with what Cusson has contributed to NLPS and the team he has established.
Cusson thank the Board for their support over the last five years and the opportunity to continue to serve NLPS for the next five, focusing on new priorities and doing what's right for kids in the division. 
Posted on