Under the Northern Lights - November 13, 2019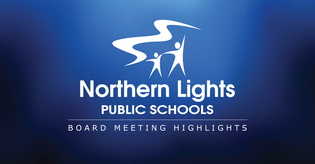 Good News Items
Trustees praised schools throughout the division for the quality and inclusiveness of their Remembrance Day ceremonies. Board Chair Arlene Hrynyk said the ceremonies show the character and citizenship of our schools.


Board Chair Arlene Hrynyk commended 4 Wing Cold Lake and its members for their commitment to participating in school Remembrance Day ceremonies and providing students with valuable messages and teachable moments. The Board will be sending a letter of thanks to the Wing Commander.


Jimmi Lou Irvine, Associate Superintendent - Teaching and Learning, highlighted the upcoming Unifed Baggo tournament being hosed by Cold Lake High School on November 28. The school recently received an award from Special Olympics Alberta for their dedication to and promotion of unified sports.

Facilities Update
Leah Rout, Director of Facilities, provided a the Board with a list of projects completed at division schools in 2019. This included everything from relocating Bonnyville Centralized High School to the Centennial Centre and bat eviction at Kikino School to fencing, roofing, and fire alarm inspections.
The Facilities Department faces a challenge in 2019-2020 due to increased insurance costs. The division's insurance rates have been increased by $900,000 this year. As a result, facilities is facing a shortfall of $1.3 million overall.
The division currently has $13.6 million in deferred maintenance and receives $1.3 million annually in Infrastructure Maintenance Renewal (IMR) funding. For the 2019-2020 school year, the IMR money received will not cover the cost of the "must do" projects that have been identified at the division's schools. This includes two boiler replacements, exterior repairs at four schools, roofing repairs, phone and intercom system replacements at two schools, air handling units, barrier free entrances at two schools, and window replacement. The total for all of those projects is $1.925 million. 
In addition, Facilities has identified eight "should do" projects including LED lighting upgrades at two schools, exterior keying upgrades at four schools, and washroom upgrades at two schools. Those upgrades would cost $900,000. The "would be nice to do" list includes carpet replacement at three schools, interior painting at two schools, chalkboard replacement at three schools, classroom modernization at three schools, and modernization of home economics classrooms at two schools. That would cost an additional $980,000.
Another challenge for the Facilities department is the loss of the Summer Temporary Employment Program (STEP). In the past, Facilities has hired up to 10 summer students using funding from that program. Due to the elimination of the program, Facilities will only be able to hire three summer students this year and they will only be doing grasscutting. Due to having fewer staff, there will be longer wait times between cuttings this summer.
Board Chair Arlene Hrynyk said the Board will continue to advocate for equitable funding and is hopeful the new funding formula being developed by the provincial government will address some of the current issues. Along with other boards across the province that are also affected by large increases in insurance premiums, the NLPS Board has been requesting assistance from the provincial government to deal with the increase.
BCHS Update
Leah Rout, Director of Facilities, reported that Alberta Infrastructure had finalized its review of the plans for the Bonnyville Centralized High School modernization project and it had been passed to the procurement department. This means the information should be sent out to shortlisted proponents soon.
Student Achievement
Jimmi Lou Irvine, Associate Superintendent - Teaching and Learning, provided the Board with the division's results from last year's Grade 6 and 9 Provincial Achievement Tests and high school Provincial Diploma Exams. She noted that school results are shared and analyzed by schools and individual student results are shared with parents.
This year's are consistent with previous years. One area of improvement the division has identified is increasing the number of students who meet the standard of excellence (a mark of 80% or better). The division's new Wonder Project, being done with Shelley Moore, is addressing this by looking at how teachers can differentiate in the classroom and move more students towards excellence.
Another strategy the division is using to address results is common assessments in grades 7 and 8. The assessments were co-created with the division's teaching staff and went through an extensive revision last year and 2019-2020 will be the first year for full implementation. 
Irvine also noted that the results, especially in math, validate what was expressed during the division's stakeholder engagement process last year. As a result of that engagement, the division selected two priorities to focus on over the next three years: improving students' numeracy skills and improving students' mental health and wellness. 
Scholarship Report
Jimmi Lou Irvine, Associate Superintendent - Teaching and Learning, presented the annual Scholarship Report. In 2018-2019 the division had 554 students enrolled in Grade 12 - 377 in traditional high schools and 177 in outreach schools. A total of 137 students (25%) were recognized with financial awards.
The total value of the scholarships increased by $50,000. Irvine noted this was remarkable considering the current economic situation. She thanked all of the local businesses, individuals and service groups for their commitment to assisting students in meeting their education goals.
NLPS is working on making students more aware of what scholarships are available to them, improving the application process, and encouraging them to apply. She noted that with tuition increasing, more students may need to apply for scholarships in order to pay for post-secondary education.
Cold Lake Configuration Meeting
Paula Elock, Secretary-Treasurer, reported on the first meeting of the Cold Lake Configuration meeting, held on November 4. The committee consists of parents and administrators from each school in Cold Lake. 
Discussion at the first meeting focused on current and projected enrollment and how that will impact the schools in Cold Lake over the next couple of years. The committee also reviewed its terms of reference. 
Committee members are now reviewing and analyzing the data and will come back to the next meeting with suggestions for configuration in Cold Lake. The committee will also be discussing how best to present information and options to the community to collect feedback.
Joseph Forget Award
The NLPS Board of Trustees will be receiving the Joseph-Forget Award from the Federation des Conseils Scolaires francophones de l'Alberta on Sunday, November 17. The award recognizes the Board's significant contribution to improving French-language education in Alberta.
Board Chair Arlene Hrynyk said the Board is honoured to have been selected and is grateful for the relationship it has built and the opportunities for collaboration that have been created with Conseil scolaire Centre-Est over the years.
Posted on