Under the Northern Lights - October 13, 2021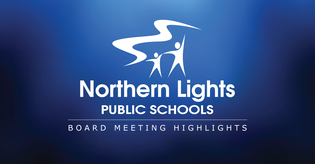 ATA Local #15 President 
Marjorie Charles, President of ATA Local #15, met with the Board to discuss the start of the school year and what its members have planned for professional development for the 2021-2022 school year.
Charles noted that teachers are already feeling fatigued even though the year has still started, due mainly to the ongoing challenges related to the pandemic. She noted there is also some frustration that the demands of COVID are taking time away from important discussions that should be taking place about curriculum, class sizes and class complexities. COVID is also affecting the mental health of students and teachers and that is having an impact in classrooms.
The ATA local has initiated two new committees this year; a Diversity, Equity and Human Rights (DEHR) committee and a Women in Leadership (WIL) committee. They have also allocated additional funds this year for professional development to do coffee chats after school and on weekends and to set up remote PD sessions with speakers that staff would normally not be able to access in person. 
The ATA local is also holding a school board candidates forum on Thursday, October 14 via Zoom at 6 p.m. The public can join by going to https://tinyurl.com/local15forum
The ATA has launched a new campaign with the Alberta School Councils' Association called Stand for Education.
Charles thanked the Board for the excellent relationship it has with the local and the support it provides to teachers.
2020 Friends of Education Presentation - Kevin Biollo
The Board recognized Kevin Biollo with a 2020 Friends of Education Award for his more than 20 years of coaching middle and high school volleyball teams in Lac La Biche. Biollo has coached teams at Dr. Swift Middle School, J.A. Williams High School, and Aurora Middle School.
More information is available on our website: 2020 Friends of Education Award - Kevin Biollo
2021 Friends of Education Presentation - Bonnyville and District Centennial Centre
The Board presented the Bonnyville and District Centennial Centre with a 2021 Friends of Education Award in recognition of its ongoing support of the division and its students, including being the home for students and staff from Bonnyville Centralized High School for two years while the school was being modernized.
The C2 was also a partner in C2-School for 12 years, which offered students in grades 3 to 7 the opportunity to come to the centre for a week and explore curriculum through unique hands-on learning opportunities. Students used the amenities at the C2 to learn about literacy, numeracy, science, health and wellness, citizenship and career preparation.
More information is available on our website: 2021 Friends of Education - Bonnyville and District Centennial Centre
2020 Friends of Education Presentation - Gerry Zelinski
The Board recognized Gerry Zelinski with a 2020 Friends of Education Award for his long-term commitment to providing youth in the community, including NLPS students, with pre-employment skills and training.
As the Youth Centre Educational Coordinator at the Cold Lake Native Friendship Centre, Zelinski assisted students in accessing employment-related training and skills development, connected them with employers and mentors in the community, and worked to break down the barriers preventing students from accessing training and employment opportunities.
More information is available on our website: 2020 Friends of Education - Gerry Zelinski
PSBAA Award Nominee
The Board welcomed Merle Patenaude from J.A. Williams High School and congratulated her on being nominated for the the Public School Boards' Association of Alberta Special Recognition Award for Promoting and Advancing in Alberta one or more of the Calls to Action of the Truth and Reconciliation Commission of Canada.
Patenaude is a graduation coach at J.A. Williams High School in Lac La Biche and was recognized for her efforts to address the calls to action in the work that she does and encouraging others to continue their own learning journeys and build foundational knowledge related to truth and reconciliation. Patenaude works with students to ensure they have the academic, emotional and spiritual supports they need to succeed. She also encourages reconciliation through building relationships and encouraging all staff to build relationships with students, families and the community. 
More information is available on our website: PSBAA Truth and Reconciliation Award - Merle Patenaude


Transportation Update
Matt Richter, Director of Transportation, provided the Board with an update on student transportation and the impact a shortage of bus drivers and contractors is having on the transportation system.
One route in the Bonnyville area has been suspended indefinitely after a contractor could not be found to take on the route. Richter explained that routes were consolidated in all communities and double runs were added to ensure as many students as possible could continue to access student transportation. Unfortunately, there were no other options for the route to meet the needs on the route that has been suspended.
Richter noted that there has been some interest in individuals taking the training required to drive a school bus, but it will take some time for that training to be completed. As well, he said there has not been a resolution to the huge insurance increases that contractors are expecting to see later this month.
Good News Items
Trustee Maurice Richard, who did not put his name forward for re-election, thanked trustees and administration for their work together over the last four years.


Trustte Debra Lozinski highlighted the presentation of retirement gifts to two retirees in the Lac La Biche area who chose not to take part in the Board's recent retiree recognition ceremonies. 


Trustee Lorne Kaban attend the Bonnyville Centralized High School school council meeting and was excited to see increased interest in serving on the council and some great discussion about the new facility.


Board Chair Arlene Hrynyk congratulated the Ecole Plamondon School boys volleyball team on winning gold and the girls volleyball team on winning silver at their home tournament. She said the students were clearly excited to be able to participate in sports again and it was nice to see them walking around town during breaks from the tournament.


Superintendent Rick Cusson noted that students are eager to participate in athletics and other extracurricular activities. Over 700 students recently participated in cross-country running. Cusson commended the staff who were involved in planning the event and ensuring it complied with COVID protocols.


Nicole Garner, Communications Officer, presented highlights from schools throughout the division, including many activities recognizing Orange Shirt Day and the National Day for Truth and Reconciliation. The full presentation is available on our website: Good News - October 13, 2021
September 30th Enrolment Report


Bill Driedger, Associate Superintendent, provided the Board with the division's official enrolment numbers for the 2021-2022 school year. Overall, enrolments are slightly higher than what was projected. While enrolments were lower than projected at the division's outreach schools, Driedger noted that enrolment had gone up over the past couple of years, in part due to COVID. Enrolments were also higher than projected at some schools, due to a variety of reasons. Driedger said that staffing adjustments have been made to meet the needs of the schools based on their actual enrolments for this year.
Out of School Care Report
Jimmi Lou Irvine, Associate Superintendent, provided the Board with a report on Out of School Care programs including the Out of School Care and Care to Learn Preschool programs.
She noted there has been an increase in enrolment this year but overall numbers are still being impacted by the pandemic. Enrolment is also fluctuating since the beginning of the year which has made program planning challenging. Staffing has also been challenging as the programs require statf with specific qualifications and credentials. This makes it difficult for programming to continue when staff are not available due to illness or other reasons. Irvine noted that there may be times this year when classes need to be cancelled if instructors are out sick and replacements cannot be found. 
The division is currently working on creating a program where students funded through PUF (program unit funding) would be combined with students enrolled in the Care to Learn Preschool program to create an inclusive care program. 
Irvine said the division is also monitoring what is happening with $10/day child care and preparing to have a proposal ready if Alberta signs on to the program so that service can be made available to local families.
COVID Operational Update
Superintendent Rick Cusson reported that the division had received a letter from the government asking the Board to consider mandating COVID-19 vaccinations for staff. Boards have been advised to seek legal opinions before moving forward with a mandate, and that each division should get its own legal opinion as local context could change the legal advice. Cusson reported that administration had not procured a legal opinion yet and therefore did not have a recommendation to bring to the Board for consideration. 
Bill Driedger, Associate Superintendent, also provided the Board with an update on what has changed with COVID protocols since the last Board meeting. The latest government announcement impacting schools and division protocols included four parts: a return to contract tracing, a shift to learning from home for K to 6 students when three or more cases are identified in the same class over a five-day period; changes to the definition of a school outbreak; and the availability of rapid testing kits to schools.
Driedger noted that while the announcement had been made prior to the Thanksgiving long weekend, the division had not yet received a guidance document from the government with details about what was required. In the meantime, Driedger said the division was continuing to comply with the Board motion for administration to notify parents of cases connected to schools and information was being shared on all cases reported to schools, either through parents or through AHS.
At the start of the school year, an outbreak was defined as occurring when 10% or more of students were absence due to illness and AHS had determined that the symptoms indicated an outbreak of respiratory illness, sometimes including COVID-19. Now, a school is considered to be in outbreak if there are 10 or more COVID cases who are deemed to have been infectious while at school within a 14-day period. There are also two alert levels. Alert 2-4 is or schools with two to four cases of COVID within a 14-day period and Alert 5-9 is for schools with five to nine cases of COVID within a 14-day period. As of the board meeting, five NLPS were on alert, three in Alert 2-4 and two in Alert 5-9. No schools were on outbreak status.
Driedger reported that once the government provides schools with the guidance document, current COVID reporting processes will be updated and then shared with schools and parents/guardians.
Rapid testing kits will be provided to schools, although not until later in the month. Testing will be voluntary. Parents who want to use them will be given the kits to test students at home. Participants will be required to share the results with Alberta Health Services.
Curriculum Feedback
Vice-Chair Michael Topylki attended a recent curriculum feedback session for board chairs. He said discussion at the session was robust and the general consensus was that a lot of rewriting needs to be done. Topylki noted that while the government has said the curriculum is just a draft and will be amended, there does not appear to be sufficient time to do a significant rewrite if the timeline to implement the new curriculum is still September 2022. 
Posted on