Under the Northern Lights - September 15, 2021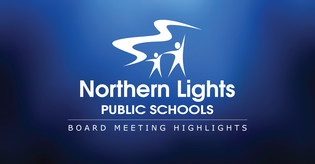 2020 Friends of Education Award Presentation - Don and Tina Luciak
The Board presented Tina Luciak, and her late husband, Don, with a 2020 Friend of Education Award for the contributions they made to Glendon School for more than 35 years.
Tina served as president of the school's parent council while her children were in school, and tutored many students. She even attended conferences and seminars so that she could learn how to better support the students she helped. Together, Don and Tina organized many school events and prepared and served many, many meals to students, staff and families. Don also took the training required to drive a school bus so he could provide transportation for students to go to sporting events and field trips.
More information about the award is available on our website: 2020 Friends of Education Award - Don and Tina Luciak
Announcements
Board Chair Arlene Hrynyk announced that after more than 20 years of service as a trustee she will not be seeking re-election for a seventh term. During her time on the Board, Hrynyk served as vice-chair and chair of the Board, as well as vice-chair and chair of Zone 2/3 of the Alberta School Boards' Association (ASBA), President of the Public Schools Boards' Association of Alberta, and as a member of the ASBA Board of Directors, and Alberta School Employee Benefits Plan board. Hrynyk thank the current and past boards for the many things they accomplished and encouraged all future trustees to put children first in every decision they make.
Good News Items
Dallin Schmidt, Communications Assistant, presented Good News items from schools throughout the division. The full presentation is available on our website: Good News - September 15, 2021.


Several trustees received long service awards from the Public School Boards' Association of Alberta:

Mandi Skogen - 8 years of service
Michael Topylki - 8 years of service
Maurice Richard - 8 years of service
Debra Lozinski - 8 years of service
Arlene Hryknyk - 20 years of service
Preliminary Enrolment and Staffing
Bill Driedger, Associate Superintendent, presented the Board with preliminary enrolment and staffing numbers for the 2021-2022 school year. 
As of September 7, the division is seeing a two per cent increase in enrolment over what it had projected, and slightly higher total enrolments than the 2020-2021 school year. Several schools are above projections and the division is currently in the process of hiring additional staff to address the needs at those schools. 
Superintendent Rick Cusson noted that with the new funding framework, this year's funding has already been confirmed by the provincial government, so the division will not receive additional funds this year due to increased enrolment and will have to work within the funding that has already been committed by the provincial government. 
Transportation
Terry Moghrabi, Associate Superintendent, reported that the division is experiencing disruptions to transportation services as a result of bus driver shortages. He noted this is an issue not just for Northern Lights Public Schools, but for school jurisdictions throughout North America. Increased training requirements and skyrocking insurance costs for contractors have made it difficult to find contractors to fill routes and difficult for contractors to find drivers. 
Matt Richter, Director of Transportation, reported that many routes were condensed this year, and some drivers are doing double runs, which has led to more congested buses and longer ride times for students. There are currently no spares for drivers who are unable to complete their route due to illness or other reasons, and that has led to several route cancellations already this year. One route is currently being driven by transportation department staff and there has been no interest from contractors to take on that route. In addition, one contractor has withdrawn from three routes and those will be vacant at the end of the month.
To address the situation, the Board approved the purchase of one bus immediately and up to three more by the end of September. One bus will be purchased to be used on the route that is currently being covered by the division's driving trainer and the bus used for training. The other three will be purchased for use if the division is unable to find a new contractor to fill the three routes that will become vacant at the end of September. The cost of the buses will be covered by the annual transportation funding that the division receives and would have otherwise been paid to contractors for those routes.
The Board will also be sending a letter to the Minister of Education and Minister of Transportation urging them to address the driver shortage and insurance costs facing contractors. Board Chair Arlene Hrynyk pointed out that the government is aware of these issues through its Transportation Task Force, but changes have not occurred yet to mitigate the situation. 
COVID-19 Operational Update
Bill Driedger, Associate Superintendent, reported that schools have been monitoring absences due to illness since the start of the school year. To date, three schools have contacted Alberta Health Services due to having more than 10% of students absent due to illness. AHS has declared one school, Bonnyville Centralized High School, to be in outbreak status for 14 days. In the other two cases, AHS did not declare an outbreak. 
The Board reviewed the information that is currently share with parents regarding cases of COVID in schools and directed administration to develop a new communications protocol for informing parents about cases of COVID-19 that are reported to schools. Once the protocol has been developed information about how it will work will be shared with parents and guardians.
Ignite 2021
Administration informed the Board that this year's Ignite 2021 staff professional development day would be held virtually instead of in-person. 
Posted on