Under the Northern Lights - October 28, 2020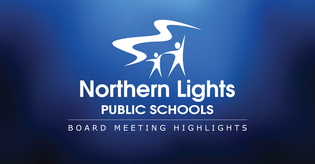 Good News Items
Trustees have been delivering long service award certificates to staff throughout the division due to the cancellation of the annual Staff Recognition Evening last May. Students have been excited to congratulate their teachers and celebrate with them.


Trustees also shared highlights from System Day, which took place virtually on Monday, October 26. Staff have commented positively on the event and opportunities for professional development. 
Accountability Pillar Report Review/Annual Education Results Report
Bill Driedger, Associate Superintendent - System Improvement, provided the Board with an update on this year's Accountability Pillar. Due to Provincial Achievement Tests and Provincial Diploma Exams being cancelled last year, the government is not updating school division Accountability Pillars. 

This will be the final year for the current format of the Accountability Pillar, as well as the division's Annual Education Results Report (AERR) and Three-Year Education Plan. Moving forward, Alberta Education will be using five domains for school divisions to report on. This year, the division will present its AERR for 2019-2020 and its Three-Year Education Plan for 2020-2023 in November. For the following year, the Three-Year Education Plan will be presented and approved in May and the AERR in November.


Administrative Procedures
The Board reviewed two updated administrative procedures that will be distributed to stakeholders for feedback: Administrative Procedure 132 - School Day and Administrative Procedure 215 - Outreach Programs. Stakeholders will be able to review the AP's and provide input until November 30.
They also reviewed three administrative procedures that have been finalized: Administrative Procedure 250 - Guidance and Counselling Services, Administrative Procedure 495 - Professional Staff Strike, and Administrative Procedure 440 - Substitute Teachers.
Cold Lake Configuration Meeting Update
Superintendent Rick Cusson provided the Board with an update on the work being done by the Cold Lake Configuration Committee. The committee reconvened on October 15 to discuss next steps. In March they had identified three potential options that would address capacity issues at schools in Cold Lake and were preparing to present those options to the community and collect feedback. Shortly after, however, schools were closed due to COVID.
At the October 15 meeting the committee decided to go ahead with presenting the three options that had been identified previously and consulting with the community. Those consultations will take place in November via Zoom. The committee will then review the feedback that is collected and bring a recommendation forward to the Board.
Cusson said changes to school configuration could start as early as September depending on what option the community supports. While it may take a couple of years to fully implement the new configuration, it may make sense to stagger it to reduce the number of transitions for students.
Trustee Karen Packard, who has been attending the committee meetings, said the committee members felt it was better to have a plan as soon as possible so everyone would have time to prepare for the transition and it could proceed in a way that would reduce the impacts on students and families.
COVID Re-Entry Plan Update
Bill Driedger, Associate Superintendent - System Improvement, discussed the latest changes to the NLPS School Re-Entry Plan, which were made a result of updated guidelines from the provincial government. These included an updated Daily Screening Checklist for students, staff and visitors to schools, new guidelines for singing in schools, and a clarification that staff at a school cannot be considered a cohort in order to reduce how many staff need to isolate in the event someone in the school is diagnosed with COVID-19.
Driedger noted that COVID protocols have also changed the way schools are dealing with events that would normally be open to parents and the public to participate such as Halloween, Remembrance Day and Christmas concerts and events. Many schools are finding creative ways to recognize those days, including virtual events.
OH&S/COVID Inspections
Superintendent Rick Cusson reported that the division had its first Occupational Health and Safety inspection that looked at how COVID protocols were being implemented in schools. The inspection took place at Wandering River school. Terry Moghrabi, Associate Superintendent, was present for the inspection and said the inspector was impressed with the implementation of the province's COVID plan as well as the additional steps the school had taken to communicate with parents.
Minister's Announcement on Diplomas
Bill Driedger, Associate Superintendent, reported that due to COVID many high schools in the province had shifted to a four semester system and that had increased demand for students to write diploma exams in November. Earlier this month, Education Minister Adriana LaGrange announced that the exams would be optional in November and parents and students could decide if students would participate or not. All students who do not write will automatically receive an exemption.
At this point, all other Provincial Diploma Exams in January, March and June are expected to proceed as scheduled.
Posted on