Under the Northern Lights - September 16, 2020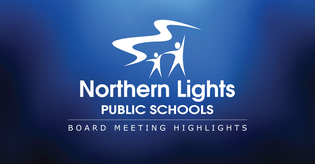 Good News Items
Board Chair Arlene Hrynyk congratulated Bonnyville Nouvelle reporter Robynne Henry on being selected to receive a Special Contribution to Public Education Award: Media from the Public School Boards' Association of Alberta. NLPS nominated Henry for the award. The formal award presentation will take place at the NLPS board meeting on October 7.


Board Chair Arlene Hrynyk congratulated three students from JAWS - Tyrese Lewis, Saskatew Lewis and Lexis Roy - on receiving Honourable Mentions for the Honouring Spirit: Indigenous Student Awards from the Alberta School Boards Association. Hrynyk said there were over 200 nominations received for the awards.


The Board was honoured to receive several thank you cards from families expressing appreciation for the Food for Thought program the division implemented in the spring after in-person classes were cancelled.


Preliminary Enrolment and Staffing Report
Associate Superintendent Bill Driedger provided the Board with an overview of what enrolment looks like for the 2020-2021 school year. He noted that enrolments are still changing as families make decisions about the learning options they want to pursue this year.
Close to 300 students in Kindergarten to Grade 9 have enrolled in the division's Learning Together Anywhere program. Approximately 100 high school students have also opted to pursue alternative program delivery through the division's outreach schools. An additional 35 students have chosen for home education in partnership with an NLPS school.
To date, 5,632 have registered with NLPS for 2020-21 and have been taking part in programming, either in-person, online or through home education. Driedger noted there are some families that have not sent their children to school yet and have not indicated that they are transferring to other schools.
Staffing has been adjusted since the start of the school year to accommodate the needs of the division's new Learning Together Anywhere program. Associate Superintendent Terry Moghrabi noted that staff were reassigned to the LTA program from schools that were identified as having surplus staff based on their student enrolment. The division currently has 346 certified staff and 274 support staff. Moghrabi noted that no staffing reductions have taken place. Superintendent Rick Cusson noted that with the change in the provincial funding formula for school divisions, NLPS was told in March what its funding would be for the 2020-2021 school year and there are no indications that funding will change, even if enrolments are lower than projected. While this year may not be impacted, a decrease in enrolment this year will mean reduced funding for the division in 2021-22 and 2022-23 due to the new funding formula which uses a three-year weighted average.
Board Chair Arlene Hrynyk noted that board have been advocating through the Alberta School Boards' Association for this to be a "no harm" year due to COVID, and the minister is considering their input but has not made a commitment to that yet. The Board will be sending a letter to the minister in support of that position. 
Summer School Report
Jimmi Lou Irvine, Associate Superintendent - Teaching and Learning, provided an overview of the division's 2020 Summer School program, which was offered to students throughout the Lakeland, not just those enrolled with NLPS. COVID measures were put into place and a blended approach was used for delivering content. Students met with teachers for two hours online every day and attended in person once a week to complete assessments. 
A total of 84 students completed Summer School this year. There were a higher than usual number of course drops, however, due to a variety of factors including work and family obligations. 
Chromebook Purchase Program
Bill Driedger, Associate Superintendent - System Improvement, reported on the division's Chromebook purchase plan for families. He said the division had been looking at a way for parents to purchase Chromebooks through NLPS for awhile, but inquiries from parents had increased due to the start of the Learning Together Anywhere program.
Working with its vendors, the division managed to secure 1,000 Chromebooks with an auto expire date that will ensure students can use the computers for a few years before they need to be replaced. As of the board meeting, almost 600 Chromebooks had been purchased by parents. Through School Cash Online the division was able to offer parents a purchase plan and many parents did take advantage of that. 
School Startup Update
Superintendent Rick Cusson praised staff throughout the division for their efforts to ensure a high level of safety for students, enacting re-entry plans, and addressing the heightened stress and anxiety associated with returning to school this year. "I cannot say enough about how proud I am of the staff in NLPS," he said. 
Since the Board's last update, Cusson noted that the Alberta Schools' Athletic Association announced that competition would be possible between schools, with some restrictions in place.  NLPS administration met with representatives from other local and neighbouring school jurisdictions to discuss the options and feasibility of sports competition at this time. The result was consensus that there would not be interschool competition in the region at this time and that this would be reassessed later in the year. 
Cusson also reported that to date, the division had not received notification of any positive cases of COVID-19 in its schools. He noted administration is currently working on a plan for Scenario 2 so it is prepared if it is directed to switch scenarios.
Learning Together Anywhere Update
Jimmi Lou Irvine, Associate Superintendent - Teaching and Learning, reported that enrolment in the Learning Together Anywhere program was currently at 291 students in Kindergarten to Grade 9. In addition, approximately 100 students in grades 10 to 12 have opted to take classes through Northern Lights Outreach. 
Morning online classes focus on literacy and numeracy and after lunch the focus shifts to science and social studies. The goal was to build a program that would provide programming similar to what students would receive on location so that if they transition to attending in person, they should have covered a similar amount of material as students who are currently attending in-person classes. 
Government of Canada Safe Return to Class Fund
Northern Lights will be receiving $1.9 million in funding through the Government of Canada's Safe Return to Class Fund. Paula Elock, Secretary-Treasurer, reported that $500,000-$600,000 will be spent on staffing, $500,000-$600,000 to provide daytime custodial services at schools, and $500,000 for PPE and cleaning supplies. The remaining funds will be used for additional cleaning that may be needed if COVID cases are reported in schools, and to address increased utility costs that will be incurred from running air exchange systems more frequently. 
Provincial Achievement Tests 
Jimmi Lou Irvine, Associate Superintendent - Teaching and Learning, shared that under Scenario 1 and 2, school divisions have the ability to opt in or opt out of having students write Grade 6 and Grade 9 Provincial Achievement Tests. If the division decided to opt in, they would also have the ability to excuse some of all students from writing.
Irvine noted that while the PAT's provide valuable information about how students are doing and areas where the division can improve, they can also be a source of anxiety for students, staff and parents. With the division's commitment to improving student mental health and wellness, Irvine recommend that the division opt out of PAT's for the 2020-2021 school year. The Board approved that recommendation. 
Updated Administrative Procedures
Following feedback from stakeholders that was collected in March and April of last year, updates to three Administrative Procedures have been finalized. The final versions have been posted on the NLPS website:
Additional Administrative Procedures that have been reviewed by NLPS administration will be shared with stakeholders for feedback over the next couple of months. 
Posted on